This Mom Perfectly Recreated Kendall Jenner's Calvin Klein Ads With a Body Positive Twist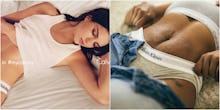 Calvin Klein ads typically feature a specific type of celeb: one with perfectly chiseled abs and/or silky smooth, digitally altered features. It's not every day that you see someone go viral for wearing Calvin Klein undies with, gasp, their stretch marks proudly on display.
Thanks to blogging mom Brenda DeRouen, this is exactly what the internet got.
"I struggled for years to accept the stretch marks on my body," she said in an email. "I've been on a journey to love myself and inspire other women along the way. I wanted to celebrate the end of my body insecurities by having a stranger document my moment. This was a defining moment to erase years of self-hatred and revel in self-acceptance."
 "This was a defining moment to erase years of self-hatred and revel in self-acceptance." 
DeRouen realized that her stretch marks were more than just a physical attribute. They also represented her journey as a mother. 
"I have stretch marks. So what!" she said. "My body has accomplished so much: the immense beauty of motherhood, the pleasures of maturity and the undeniable journey of growth." 
Read more: Model Robyn Lawley Has an Inspiring Message About Criticizing Women's Bodies
She hopes that the photos not only empower women, but also cause people to reflect on societal expectations of perfection. 
"With mirrors everywhere, fashion dos and don'ts and condemnatory magazines, we are all more obsessed with our appearances than we'd like to believe," she said. "I love seeing raw images of people. It's refreshing and it doesn't place unrealistic expectations on how women/men are supposed to look."
DeRouen didn't expect her photo shoot to get as much as attention as it did, saying she's since received hundreds of emails from women who have had similar struggles. The comments on her Instagram are no different. 
"I have stretch marks all over, I'm 30 weeks pregnant! I'm sure they will remain with me forever and this helps to appreciate my body for all it's able to do," one person commented. "Thank you for this. It took me a while to embrace my stripes," said another. 
This isn't the first time we've seen a woman's stretch mark photos go viral. In October 2015, plus-size model Robyn Lawley proudly posted a photo of her body post-birth, captioning it, "We put an unbelievable amount of ridiculous time consuming pressure on women to care so much about their flaws they forget how truly beautiful they (you) are today." And last year, Chrissy Teigen started a round of #LoveYourLines posts after uploading a photo of her thighs to Instagram. 
As seen with DeRouen's photos and last week's fake Chrissy Teigen Women's Health cover, time and time again, women are asking clothing brands and magazines to change the way they advertise to women. And no, simply adding disclaimers to ads letting people know they are digitally altered is not the way to go. 
If DeRouen's simple photo shoot can go viral, just imagine the impact brands could have by taking some of its money spent on hiring big names like Justin Bieber and Kendall Jenner and casting people the world is ready to see — imperfections and all.