Beyoncé's Empowering 'Lemonade' Came Too Late for Rapper Lil' Kim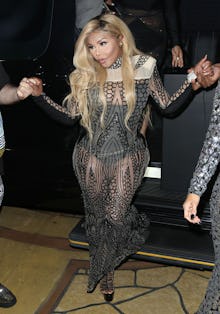 Fans of rapper Lil' Kim might dismiss the notion that the once top-of-her-game hip-hop artist is a self-hating, insecure African-American woman. After all, Kimberly Denise Jones rose to prominence in the mid-'90s with hardcore feminist lyrics encouraging women to demand sexual pleasure, appreciation and equality with men.
At the peak of her career in 2000, she declared in a radio anthem geared toward black women, "No matter what people say/ We got it going on." 
But a set of pictures the star posted on Instagram has left some wondering if years of pressure to fit a European-centric mold in the entertainment business have extinguished her self-confidence.
On Sunday, Jones posted a collage of selfies in which she looks far more Caucasian than she has in the past. Instead of the dark hair, caramel skin and full lips and nose for which Lil' Kim was once known, the pictures show a woman with long blond hair, light skin and European features. Fans and critics on Twitter expressed disappointment about the lengths to which the rapper seems to have gone to change her appearance to look more white. 
In a 2000 interview with Newsweek, Jones spoke openly about having plastic surgery, saying that while white women undergo cosmetic procedures like breast implants without causing a stir, black women face intense scrutiny when they seek to change their appearances. She said she has long felt the pressure to conform to European beauty standards. 
"I have low self-esteem and I always have," Jones said. "Guys always cheated on me with women who were European-looking. You know, the long-hair type, really beautiful women that left me thinking, 'How can I compete with that?' Being a regular black girl wasn't good enough."
Jones posted the images just days after the release of Beyoncé's Lemonade album, which celebrates African-American women of all shades. 
In Lemonade, Beyoncé grapples with the same feelings as Jones, expressing outrage and confusion over being less desirable than "Becky with the good hair" — an apparent reference to a Caucasian woman with whom husband-rapper Jay Z is rumored to have had an affair. But Beyoncé also finds resolve in Lemonade, seeming to reject self-hate with the "Formation" lyrics, "I like my baby heir with baby hair and Afros/ I like my Negro nose with Jackson Five nostrils."
Lemonade watchers were quick to gush over one scene in particular: a group of black women — including the mothers of victims of racial injustice like Trayvon Martin and Michael Brown — convening in what appears to be the antebellum South to discuss their pain and find ways to heal in a society that has routinely ignored them and relegated them to its bottom rung. Viewers also noted how the scenes promote positivity, togetherness and mutual support among women of color, particularly in a culture that rarely elevates these images to the mainstream.
While it seems unlikely that Jones meant to weigh in on Beyoncé's Lemonade by posting the images, several Twitter users made the connection between Lil' Kim's selfie controversy and Beyoncé's visual album, which aired on HBO Saturday:
Issues of beauty and self-acceptance weigh on black women more than others. A 2012 survey of African-American women conducted by Washington Post and the Kaiser Family Foundation found that 28% of black women thought it "very important" to be considered physically attractive while only 11% of white women felt the same.