This Prince GIF Beautifully Combines His Iconic Hairstyles in 1 Mesmerizing Shot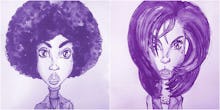 From his gender-defying long locks to his full-blown afro, Prince was the OG definition of hair inspo, always lightyears ahead of the trends of any era.
In honor of the late singer/songwriter, who died Thursday morning at 57, behold a GIF charting his most memorable hairstyles across five decades.
Illustrator Gary Card originally drew these photos of Prince, which chronicle his looks from 1978 to 2013, as part of a project for The Beat in 2014. After hearing the news of his death, he decided to add the last three years of the icon's life to the chart. 
"For a painfully shy, gay nerd growing up, he represented an imaginary alter ego I could retreat into," Card told Dazed about his love for the star. "He helped me discover my own confidence, personality and sexuality... Like Bowie he didn't just write songs, he created worlds with every album and told stories." 
As Racked pointed out, "Prince never allowed societal norms to restrict his unique fashion style." His blurring of the gender binary was seen both in his forward-backward-and-beyond looks and the 'dos he wore atop them.
Though his hair is but a small component of his legacy, as seen in the below tweets, it is one that will continue to influence the fashion and beauty industry for years to come. 
In the midst of mourning the star and playing "She's Always in My Hair" on repeat, this is a quick reminder of how Prince might've just been one of the most influential gender-bending musicians of all time — with a damn good head of hair.