Why Lip Enhancement Is the Hottest Plastic Surgery Trend — Especially for Men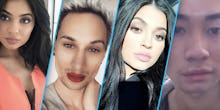 You see them on TV, on magazine covers and all over social media. Soft, plumped and pillowy: Yep, we are talking about Kylie Jenner's lips. 
Even though we aren't even halfway into 2016, the 18-year-old easily wins the award for most-talked about body part of the year.
It's no secret that people idolize Jenner. But according to a new study, it's evident that some might be taking their love to new extremes. Since 2000, based on data from the American Society of Plastic Surgeons, there has been a 50% jump in the amount of lip enhancements. 
Read more: The Big Problem With Our Fascination With Kylie Jenner's Lips
Although part of this recent spike in procedures could be attributed to Jenner's popularity, big lips haven't always been so readily embraced. As Mic previously reported, "scores of black public figures with voluptuous lips have walked red carpets, appeared in films and music videos, even on the covers of mainstream magazines, but they aren't called trendsetters."
But don't picture a bunch of little wig wearing Jenner clones just yet — a growing group of men are also pursuing a plumped up pout. CBS News reports "about 1,200 male lip procedures were performed in 2015." This was a whopping 400% increase since 2000. 
Mic spoke with dermatologists, plastic surgeons and patients who have received the procedure to explore the meaning behind this phenomenon. The answer, it turns out, is complicated. 
Thanks to selfies, big lips are "in." Many plastic surgeons blame the increase of augmentations on photo sharing apps and popular internet celebs, models and bloggers. 
"Kylie had a major influence on the popularity of lip injections," plastic surgeon Justin Yovino said in an email. I think once people saw that lips could be made fuller and still be smooth and natural appearing their opinions changed." 
Jessica Weiser, a dermatologist at the New York Dermatology Group, agrees, saying in an email that "seeing young celebrities have cosmetic enhancements and openly discuss their experiences certainly increases interest." 
Another culprit? Selfies.
Yovino said the desire for the procedure is driven by the explosion of social media, as "there is only one person in [selfies] and it's all about looking good on all fronts." 
With popular social media platforms comes a new crop of male bloggers.
Men are finally being accepted into the beauty industry. "I think the boundaries of the makeup and beauty industry, in regards to sexism, are finally dissipating," Albert Pham, a YouTube vlogger who had the procedure, said in an email. "More and more men are becoming acknowledged in the beauty industry, creating a larger comfort zone for other men to expand on as well."  
Within the past few months, male bloggers have been featured by popular cosmetics brands. Last week, Benefit Cosmetics featured two male makeup artists, Manny Gutierrez and Patrick Starrr, on its stores' displays. 
"I am not a big fan of gender and/or stereotypes assigned to a gender," vlogger Candy Crash said in an email. "It's 2016 and people are slowly acknowledging that it is nonsense to think in [gender] boxes." 
Dudes are insecure too, duh. Time and time again, there has been female-oriented body positive ad campaign — like this and this. Men, on the other hand, are often left out of the conversation. But, as Mic reported in March, a 2012 study found that 81% of men referred to their bodies in self-deprecating terms that "promote anxiety," versus 75% of women. 
"Everyone has a pair of lips on their face, so to say that only women are capable of feeling insecure about potential unevenness or lack of body in the lips, is ignorant," Pham said. "I wanted to get lip injections to even out the fullness of my top lip in comparison to my lower lip, as well as making my lips more 'aesthetically' appealing."
"To me, getting my lips done is just another measure I took to be happy with how I look," Candy Crash said. "My almost non-existent lips always bothered me — I just never was brave enough to get them done until five weeks ago."
It's goes beyond just lip injections. Girls at a sleepover might stare in the mirror (à la Mean Girls) pointing out every one of their imperfections, but that doesn't mean guys are doing the same. In fact, most plastic surgeons we talked to have said they've seen increases in a multitude of male procedures across the board. 
Dermatologist Whitney Bowe, who says men up about 20% of her total patients, has seen an increase in men wanting Botox or a more defined jaw line. Weiser adds that she's seen men ask for skin tone laser treatments, skin tightening and body contouring procedures. 
As seen in the comment section on Pham's video of him getting the injections, guys that choose to enhance their lips now face similar scrutiny that women who also opted to get the procedure have. 
"Your lips are already full... this was unnecessary. You may have body dysmorphic disorder," one user commented. "You paid hundreds of bucks to look like you have an STD. Basically. Plus they're a bit lopsided," another said.
But, who cares what other people have to say. "If someone wants to get their lips done, it's not your place to disapprove, especially if is done in a healthy and confidence-boosting manner," Pham said.