We Interrupt This Message to Bring You the Latest Viral Trend: Redneck Boot Sandals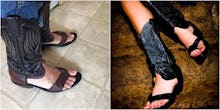 Listen up, y'all: Everyone's favorite fashionisto (note: sarcasm), Pee-wee Herman, has declared the latest style trend: Redneck Boot Sandals.
Yup. A man known for wearing one outfit, and one outfit only, is calling out a look we can only hope he's planning to rock in his next movie.
Before you cringe and/or close this article because you are so done with the internet today, please pause to take note of how very real this product from Redneck Boot Sandals is: 
If it seems like someone simply took a pair of scissors to a boot, it's because that is exactly what happened. The company's CEO, Scotty Franklin, explained the genesis of the product in an email:
The design was inspired by seeing a man walking on the Gulf Coast in Alabama wearing cowboy boots. I thought to myself how hot it was and looked down at my "flip-flop-style sandals". I came back home to Missouri and cut out an old pair of cowboy boots and the birth of a funny new idea was created.
Here are some recent tweets — in case you needed clarification of what exactly this feedback has been like since the 2-year-old company launched: 
Don't think they're going to do all the work for you, though. If you want a reconstructed pair, you're going to have to give up an old pair of boots for the company to work its magic on and transform into your choice of a flip-flop or strappy sandal. What a decision that is. 
They boots will set you back $75 a pop, which is nothing, because this product is a diamond in the rough. Besides, how often are you granted the opportunity to wear cowboy boots to the beach?
Read more: Transform Your Genitals Into Stuffed Animals With These Glorified Cock Socks 
Which side are you on? Strappy? Flip-flop? What about the left as a flip-flop and the right as a sandal? Thoughts?
These boot sandals were clearly made for walking.