New Show 'Curvy Style with Timothy Snell' Depicts The Sad Reality of Plus-Size Shopping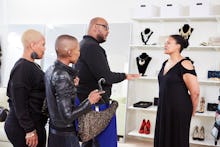 Three words: shape, slim and smooth.  
Sounds like something you might hear in pottery class, no? Rest assured, it's not. Instead, it's the mantra stylist Timothy Snell has used to outfit curvy women throughout his 15+ years working in fashion. 
It's no secret that there is a lack of inclusion of plus-size women within the fashion industry. Just earlier this month, Beyoncé received flack for not selling her Ivy Park collection in sizes larger than XL. Add in segregated store sections and online-only clothing options and you get a pretty good idea of what it is like to shop as a curvy women. 
Read more: Tess Holliday Sums Up the Issue With Plus-Size Clothing — and How She's Fixing It
In Curvy Style with Timothy Snell, a new CENTRIC series premiering Saturday, April 30, viewers follow Snell as he faces this crappy reality head-on while dressing curvy celebs, including Queen Latifah, as well as everyday women. While celebrity stylists like Rachel Zoe have had television shows before, this is the first one of its kind to specifically highlight plus-size women. 
"The question that I always get is, why don't they make that in my size," Snell said in a phone interview. "Seventh-five percent of the American population is a 14+ and they are the most under-serviced women in the market. Plus-size women want to be seen as people who love fashion and who have the money to purchase fashion." 
Plus-size clothes tend to be the fucking worst. Just ask Tess Holliday. The plus-size model has spoken time and time again about the "atrocious prints on plus-size garments that would never be in straight size." 
If an item isn't horrendously printed, there's a good chance that it's in a neutral shade. Just last week, Orange is the New Black star Danielle Brooks spoke to PeopleStyle about how quick designers are to put women in a black or navy dress. Where are all of the print-free, bright-colored options? 
Grammy-nominated singer/songwriter Jazmine Sullivan, who appears on the series (and has been outspoken about body confidence), has similar concerns. "I don't know why brands aren't making plus-size collections," Jazmine Sullivan said over the phone. "[When they are made] the clothes are out-of-date or frumpy." 
Why is this the case? According to Snell, it has to do with retailers finding the easiest way to produce large clothing quantities. Buyers tend to order items that they believe will translate into plus sizes. "They find popular items that are selling and will [size] it up to accommodate plus women, as opposed to investing and creating a shopping destination for them," Snell said. 
But, as Sullivan points out, "every curvy women is not shaped the same" and won't all fit into the sized-up items that are meant for straight-sized women. "We're women and we want to look great, just like everybody else," she says. 
Both Sullivan and Snell believe the shift towards inclusion has to come from within the industry — whether that be the designers themselves or from fashion publications. 
"A lot of the time, designers are about an image and sometimes the image doesn't include a plus size women," Snell said. "They don't see the beauty of a plus-size women. They don't see the potential, they don't see what she can bring to the clothing. They don't want to change the image of what they think it should be." 
Sullivan's advice? "Put more curvy women on covers. Show us more!" Last month, Ashley Graham had multiple magazine covers ranging from Sports Illustrated to Glamour, a stark contrast to September 2015, when not one plus-size model was featured in seven major magazines' September issue fashion spreads.
Although there have been strides toward inclusion with a few (emphasis on "few") plus-size models walking in New York Fashion Week and celebrity plus-size collections (like this, this and this), as Sullivan puts it, "there is still room to improve." 
What does Snell want to see for his clients? A completely revolutionized shopping experience. "There is a curvy movement going on, but I'm the only guy who is out here trying to make a difference," he said. "I want more designers to design for plus-size women."