Chrissy Teigen's Makeup-Free Selfie Speaks the Truth About Post-Pregnancy Skin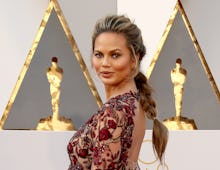 Light a match and burn your Pregnancy for Dummies books, because Chrissy Teigen is the new one-stop destination for everything you want to know (and some things you don't want to know) about giving birth. 
The truth bomb-dropping mom took to Snapchat Wednesday to discuss an under-the-radar baby reality: postpartum skin woes. 
"Goodbye pregnancy glow. Hi itchy red spots," she captioned a makeup-free selfie. 
Yes, you know that so-called glow that comes with pregnancy? Well, it tends to disappear post-birth and is often replaced with acne and dark blemishes. Yay! 
While some celebs might choose to remain tight-lipped about the not-so-pretty aspects of motherhood, Teigen has taken the opposite approach by filling her Twitter, Instagram and Snapchat with every last (somewhat dirty) detail. 
Read more: Chrissy Teigen Just Spoke Out About Having to Wear Diapers After Giving Birth
She has called attention to everything from having to wear diapers after birth to post-childbirth perineal irritation, and prior to becoming pregnant with daughter Luna, her IVF treatments. 
Because it's not all that often A-listers allow us commoners into their lives, fans respect her honesty. 
Naturally, because she's a celebrity, Teigen has had her fair share of haters and mom shamers. But she continues to do and say WTF she wants — and we love her for that. 
Plus, we wouldn't mind taking the heat from internet trolls if it meant coming home to John Legend at the piano and this little bundle of joy.
h/t: People