Beyoncé Is Selling "Boycott Beyoncé" Merchandise on the Formation World Tour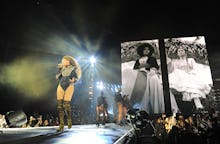 Beyoncé is bringing black feminism to the masses, and she ain't sorry.
She's so not sorry that she's now taunting her haters. At the kickoff to her Formation World Tour in Miami on Wednesday, fans were greeted with a curious bit of merchandise for sale: Boycott Beyoncé t-shirts.
Read more: Beyoncé's 'Lemonade' Is What Happens When Black Women Control Their Art
You mad? In February, the chart-topping diva dropped "Formation," and then performed the song alongside dancers dressed in Black Panther-era regalia on stage at Super Bowl 50. Such a political pivot in Beyoncé's work, which until then had been relatively mild, led to backlash from some former fans, who claimed the singer had taken her message too far. 
However, the strongest backlash came from mostly white police officers, who took the symbolism of Beyonce's "Formation" video especially to heart. In the video, Beyoncé sits on a police cruiser that's sinking in water, an obvious allusion to Hurricane Katrina and the massive institutional failures by federal responders and local police agencies.
The "Formation" video also ends with a small boy dancing in front of a line of police officers, who then put their hands up in a reference to the now-infamous "Hands up, don't shoot" phrase that was associated with Mike Brown after he was shot and killed by a police officer in Ferguson, Missouri.
The video was widely embraced by activists within the Black Lives Matter network. But some police officers had a very different take. The Miami Fraternal Order of Police called for a boycott of Beyoncé's "Formation" World Tour. In New York City, critics called for a demonstration against Beyoncé at the NFL's headquarters (only a few people showed). "To taint police officers globally in the Super Bowl is really wrong," Sgt. Ed Mullins, president of the Sergeants Benevolent Association in New York City said to CNN. 
Beyoncé, in typical fashion, hasn't addressed the controversy directly. But she is letting her work speak for itself. So if you want to boycott Beyoncé, don't expect Queen Bey to bow down.
h/t The Cut