University Removes Sexist Cheerleader Tryout Guide After Social Media Outcry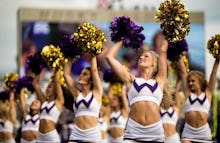 Don't know how to apply false lashes? Are you anti-spray tan? Well, you can put your pom-poms in storage because you, my friend, won't be making the University of Washington cheerleading squad. 
Although "bronze, beachy glow," "dark, smokey eyes" and "flattering eyeshadow" sound like a list of beauty looks available in a Sephora catalog, they are actually some dos and don'ts that the school boasted on a now-removed tryout infographic posted to Facebook on Monday.
While some of the rules make sense, such as the attire requirements and having hair partially off the face, most of the others are just plain laughable: 
"Girl About Town Llpstick" — All girls must wear the same exactly MAC lipstick shade. Have a dupe from the drugstore? That simply will not work! 
"No harsh lines" — What constitutes a harsh line? Examples, please. 
"No nude lips" — Apparently, natural is not O.K. 
"Hair partially off face" — Is this a half and half situation? 
"No trendy hair colors" — Tbh, bleach blonde is pretty trendy right now. 
In a statement, the university said that the graphic was created due to a high volume of questions surrounding tryouts. It was quickly removed Tuesday morning, The Seattle Times reports, because it was "determined that some of the details and descriptions provided were inconsistent with the values of the UW spirit program and department of athletics."
Many have since taken to Twitter to voice confusion with the graphic:
Some explained that their teams have similar requirements. For example, Washington State University has an infographic that requires cheerleaders to wear crimson lipstick and to have a tattoo-less athletic physique. 
What's even more troublesome than the post itself, however, is the people that can't seem to wrap their mind around why a poster like this is problematic.
Seriously?
Antiquated, sexist beliefs like these are unfortunately nothing new for cheerleadeaders. A number of professional cheerleaders, such as this former NFL Raiders' Raiderette and these Buffalo Bills' Jills, have spoken out about image requirements they were forced to uphold. Some were benched for going over a certain weight, while others had "jiggle tests" to make sure they were fit. 
Read more: Student Kicked Out of College Gym for Wearing "Inappropriate" Workout Attire 
Additionally, a 2012 study in the Journal of Athletic Training concluded that cheerleaders were at risk for eating disorders and a negative body image because of the revealing uniforms they have to wear. 
Not all cheerleaders should be told they need to look this: