Baltimore Police Say 13-Year-Old Boy Should Have Dropped Toy Gun Before They Shot Him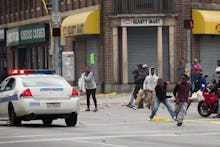 Baltimore police again made headlines Wednesday for a controversial civilian shooting. This time, the victim was a 13-year-old unidentified boy who was holding a toy gun officers mistook for the real thing.
But Baltimore Police Commissioner Ben Davis put blame for the shooting squarely on the young boy's shoulders. "He had every opportunity to drop the gun," Davis told reporters. "He had every opportunity to stop, put his hands in the air ... and follow the instructions of a police officer."
Read more: Will Baltimore's New Mayor Deliver on Promises Made After Freddie Gray's Death?
The boy was holding what police said "looked like a firearm" when confronted by police, and then allegedly ran away from officers after they identified themselves. He survived the shooting and reportedly does not have any life-threatening injuries. 
Still, the shooting was eerily reminiscent of one that killed 12-year-old Tamir Rice, who was shot and killed by officers in November 2014 while he held a toy gun in Cleveland. It also came amid the anniversary of uprisings that rocked the city in the aftermath of Freddie Gray's death. Gray mysteriously suffered a fatal spinal cord injury while in police custody in April 2015. The six officers involved in his arrest have since been charged with a variety of crimes, including manslaughter. 
The Baltimore shooting also came one day after the city's democratic mayoral primary, in which state Sen. Catherine Pugh won and is considered a lock for office in the overwhelmingly democratic city. Pugh's mayoral campaign focused heavily on helping the city recover after 2015's uprisings and has promised tougher accountability of police officers in the city.