5 Ways Men Can Call Out Rape Culture, According To NFL Linebacker DeAndre Levy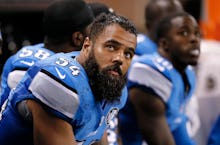 If it's just dawned on you that April is Sexual Assault Awareness Month in the U.S., then count Detroit Lions linebacker DeAndre Levy among the more passionately informed. In an essay The Player's Tribune published Wednesday, Levy chastised men who fear calling out their buddies when they brag about scoring with a co-ed too incoherent to give consent.
"It's truly astounding how many awful things that occur in this world because men are afraid of appearing weak," Levy wrote. 
Levy goes on to describe an incident in which he was one of those people who failed to speak up. He was just 18 when he heard about the "wild nights" among players and other college students in the dormitory, he said.
"A decade later, I carry guilt for not acting after hearing a story (and many others) that painted a picture of what I would now identify as rape," Levy wrote in the essay. "This speaks to just how toxic and backward the culture around sexual assault still is,"
The essay comes after years of debate in the NFL about the rate of violence among the league's athletes. The topic has forced the league to develop public awareness campaigns about domestic violence and abuse.
Levy, a 29-year-old NFL player for five seasons, said rape culture seemed so prevalent among his cohort that it warped his view of sexual abuse.
"I was pretty ignorant on this topic for a long time," he wrote. "I think a lot of men are, because it's often talked about as a women's issue. The focus always seems to be on teaching young women how not to get raped and on what steps they can take to 'stay safe.'"
It's "bulls**t," Levy continued. The first step to changing that rape culture, particularly among male athletes who are encouraged to not show weakness, is to teach them that it's a sign of weakness that they don't speak up, Levy said.
He offers five points for men struggling with definitions of consent and rape:
1) Intoxication isn't a sign that a woman is inviting sexual advances.
2) A woman's choice of clothing is also not an invitation for sexual advances.
3) Taking turns on a woman who is drunk is rape.
4) If everyone else is drunk and the woman is also intoxicated, it's still rape.
5) If everyone is sober and the woman consents – "a response likely prompted by her fear of the many men in the room" – it's still rape.
"As professional athletes, we have the prominence in our communities to effect real change," Levy wrote. "When we talk, people listen. So in a sense, our general silence on this issue is condoning it."
"So let's change that," he concluded. "Speak out with me. Man up."
Read the original essay at The Player's Tribune.