AXE's Latest Commercial Is Encouraging Guys to Shed Outdated Notions of Masculinity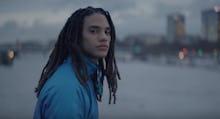 Get the five stories that will challenge you to rethink the world by signing up for MicCheck Daily.
The nostalgic AXE scent that wafted through middle school hallways has stayed the same. But the way the brand is advertising to dudes is changing.
From a guy with an afro to cornrows to long luscious locks, the latest AXE commercial for their haircare line, titled "Not Just a Pretty Hairstyle," is encouraging men the world over to embrace their hair however they choose to style it. More importantly, it's got a powerful message about perceptions of masculinity. 
"Our guy has evolved, society has evolved," Rob Candelino, the vice president of marketing and general manager of hair care for Unilever (which owns AXE), said in a phone interview. "We encourage guys, now, to dispel and shed those outdated notions of masculinity to really embrace what makes them an individual." 
The commercial builds on AXE's "Find Your Magic" campaign from January. It highlighted a diverse group of men (one in heels, one in a wheelchair, etc.) and helped steer the conversation surrounding previous definitions of masculinity that dominated earlier AXE advertisements. 
Many of the brand's previous campaigns had been called out for sexist and misogynistic undertones. For example, in 2010, AXE was encouraging guys to stop befriending women, and to instead become a man. A 2012 ad, continuing its "sex sells" theme, depicted women as just a pair of breast.
Read more: New Axe Body Spray Ad Dumps Macho Schtick for a New Type of Masculinity
While doing research this go-round (leading with the success of their enlightened mindset), the AXE team found that two-thirds of men don't style their hair, or only do so for special occasions. After speaking with an assortment of men, the brand concluded it was because of a fear of appearing overdone or looking as if they were trying too hard. To address this, the brand sought to create an ad that celebrated the myriad of ways guys can wear their hair.
Within the fashion and beauty industry, there has been a fair share of female-oriented body positive advertising campaigns. For men? Not so much. 
As Mic reported in March, according to the Guardian, a study found that 81% of men referred to their bodies in self-deprecating terms that "promote anxiety," versus 75% of women. American Eagle-owned Aerie tried its hand at "raising awareness about male body positivity" with a cruel April Fool's #AerieMan prank, but ended up landing in hot water, with many taking to Twitter to say the topic is no laughing matter. 
AXE believes it's responsible for advocating for all guys — even if other brands are not. 
"These commercials are important for everyone to see," Candelino said. "We hope we inspire all guys to find their own magic, especially when it comes to their hair and not be held back by any old, outdated, preconceived stereotypes." 
Watch the full commercial below.