Urban Outfitters' Shampoo for "Suicidal Hair" Pulled From Shelves After Twitter Backlash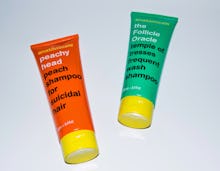 Urban Outfitters' attempt at humor fell completely flat with the release of a shampoo boasting the tagline "for suicidal hair." 
The following description is smack dab on the back of the bottle, which is manufactured by beauty brand Anatomicals:
I never knew my once beautiful hair would actually commit suicide by tossing itself off dramatic white cliffs to the rocks below. Now look at me, completely bald. Before it's too late, bring your locks back from a state of complete depression with this conditioning peach shampoo.
Outraged consumers called out Urban Outfitters for choosing to sell the shampoo in its stores.
As of Thursday afternoon, Urban Outfitters announced it would be pulling the product from their stores immediately.
It's hardly the first time that Urban Outfitters has come under fire for its products. From Holocaust-themed paraphernalia (like this shirt and this tapestry) to blood stained tees and depression-themed crop tops, Urban Outfitters has a long, controversial history of pissing folks off.
As for Anatomicals, the U.K.-based brand told Buzzfeed it will "probably" discontinue the product, saying that it wasn't making "light of suicide." 
Read more: University Removes Sexist Cheerleader Tryout Guide After Social Media Outcry
Adding insult to injury, in an interview with The Huffington Post U.K., Anatomicals co-founder Paul Marshall explained that Peachy Head has been on sale for years and "continues to be loved by many customers." (Is this really the first time he's ever heard pushback about the flippant use of the word suicidal?)
As for Urban Outfitters, instead of constantly having to pull offensive products, why not, uh, just not sell those items in the first place? Think people, think!