No "John Wayne Day" in California Because He Was a White Supremacist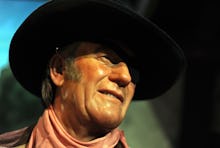 Designating an annual day to remember historic events or beloved figures can be run-of-the-mill business in U.S. state legislatures. But several California lawmakers attempting to honor iconic actor John Wayne for, as one politician put it, his embodiment of "those big American values that we know and we love," were blocked from doing so Thursday.
In what he clearly viewed as a harmless resolution, state Assemblyman Matthew Harper of Huntington Beach proposed designating May 26, Wayne's birthday, as John Wayne Day, the Associated Press reported.
One of Wayne's big American values was white supremacy, as he made apparent in an interview he gave decades ago. California's Assembly rejected a Republican-led effort to create "John Wayne Day," in part because Wayne made racist statements about African-American and American Indians.
After the resolution was defeated, Harper said, "Opposing John Wayne Day resolution is like opposing apple pie, fireworks, baseball, the Free Enterprise system and the Fourth of July!" Harper said in a statement 
The rejection of a day for Wayne comes amid other efforts around the U.S. to have white icons with controversial legacies stripped from places of prominence, in an increasingly diverse country. Students and social justice activists have targeted universities bearing the names of slave-owning presidents and statues memorializing Confederate generals over the last year.
Other lawmakers in California's Democratic-controlled body said they just weren't having it. "He had disturbing views towards race," state Assemblyman Luis Alejo, a Democrat from Watsonville, according to the AP.
"Disturbing" is perhaps a mild way describing Wayne's statements on the disenfranchisement of blacks, as well as genocide and mistreatment of indigenous people.
"We can't all of a sudden get down on our knees and turn everything over to the leadership of the blacks," Wayne said in a 1971 Playboy interview. "I believe in white supremacy until the blacks are educated to a point of responsibility. I don't believe in giving authority and positions of leadership and judgment to irresponsible people."
Perhaps less surprising are Wayne's views on American Indians, given the roles he played in movies that unambiguously demonized native people. "I don't feel we did wrong in taking this great country away from them, if that's what you're asking," Wayne said in the interview. "Our so-called stealing of this country from them was just a matter of survival. There were great numbers of people who needed new land, and the Indians were selfishly trying to keep it for themselves."
Wayne, born Marion Robert Morrison and raised in Southern California, became internationally recognized for popularizing the Western movie genre in the 1940s and 1950s. His best-known works included starring roles in The Alamo, The Green Beret and 1969's True Grit. The latter film earned him an Academy Award, for portraying the gruff, rugged cowboy whose daughter had been kidnapped by Comanche Indians.
Following his death in 1979, Orange County, California's airport was renamed the John Wayne Airport. It still bears his name.