New Racist Texts Show San Francisco Officers Joking About "Slave Ships" And Ferguson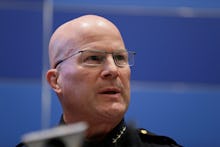 San Francisco Police Chief Greg Suhr announced Friday that all officers on the city's force would undergo anti-harassment training after he released a transcript of racist and homophobic text messages sent among officers about suspects and citizens in the city. The latest batch of offensive exchanges comes days after authorities confirmed the authenticity of an older series of messages released by a city attorney. 
One can only hope the anti-harassment class will discourage police officers from referring to the citizens they are sworn to protect and serve as n****** and "beaners." 
The newly released texts show the officers denigrating black and Latino suspects with racial slurs and insulting fellow officers whom they perceived to be gay. The texts also include conversations ridiculing the black community in Ferguson, Missouri, where police fatally shot an unarmed black man in 2014.
One multimedia message includes a photo of smoke rising above San Francisco. Officers guessed the cause of the fire, the AP reported: "Must be Korean BBQ," reads one text message. "I heard was a slave ship!!" another reads.
Authorities investigating sexual-assault allegations against a former officer said they found the text messages on two officers' personal phones.
Suhr detailed steps he's taking to combat bias in the department, which include making the force as diverse as San Francisco's population of more than 837,000. Ed Lee, the city's first Chinese-American mayor, emailed every officer in the force on Thursday urging him or her to report colleagues who exhibit biased or racist behavior. 
Suhr, who has been embroiled in a scandal over an alleged culture of racial bias and brutality in the department since 2014, previously stated that the text messages aren't proof that racist attitudes are deeply rooted in the force of 2,100 officers. The scandal helped to flare tensions with the black community in December, when officers fatally shot Mario Woods, a 26-year-old African-American who was wielding a knife. 
The mere existence of the texts left some officers feeling betrayed, as most on the force felt unfairly associated with the bias allegation, Suhr said. "The vast majority of police officers are shaken," he said. "The expectations [of professional conduct] have never been higher, so when officers do something like this, the disappointment can't be greater."