Vans Sees Meteoric Rise in Sales All Thanks to "Damn Daniel"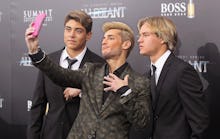 It's been almost three months since you found yourself replaying that addictive yet pointless "Damn Daniel" video nonstop. And while the clip's star, Daniel Lara, might be riding his newfound internet fame, it's actually the brand he name-checked reaping the rewards.
Mic previously reported that the viral video — which featured Lara's friend Josh Holz shouting "Damn, Daniel! Back at it again with the white Vans!" — had made white Vans the new "It Shoe," with pairs being sold for upwards of $100,000 on eBay. The sales numbers the brand released Friday confirmed this theory. 
Read more: "Damn Daniel" Meme Has Made a Pair of $45 Sneakers the New "It Shoe"
According to Vans' parent company, VF Corporation, there was a 20% increase in direct-to-consumer sales and 30% increase in online sales since the viral video (which has clocked over 346,000 retweets and 12 million YouTube views) was released. 
Vans is still claiming it had nothing to do with it. Although some have speculated that the brand was behind the video, Vans says it merely capitalized on something that landed in the team's lap. 
"It wasn't planted at all," Eric Wiseman, VF Corporation's chief executive, told Bloomberg. "I won't say it was a lucky gift, but it gets to how much California youth like the brand. And it was expertly managed in how our brand responded."
Once the clip starting gaining steam on social media, the Vans website started redirecting visitors to the pair of white shoes in the video. When the two teens appeared on the Ellen DeGeneres Show in February, the brand gifted Lara with a lifetime supply of the white sneakers. 
This is not the first time pop culture has unintentionally caused a sales jump. After the release of Beyoncé's "Formation" video in February 2016, Red Lobster credited the star with increasing sales by 33% with the kid-friendly lyric, "When he f*ck me good I take his ass to Red Lobster." 
Prior to that, in June 2015, Croc sales skyrocketed after the adorable Prince George was spotted wearing a pair. 
See, brands? You don't need to dish out hundreds of thousands of dollars for campaigns, you just need to sit pretty and wait for someone else to make your product go viral! Woohoo! 
Below, witness the Vans team as they watch their sales numbers increase in the aftermath of "Damn Daniel":