Detroit's School Teachers Called in Sick Ahead of Teacher Appreciation Day — Here's Why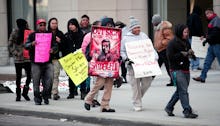 Detroit's got a major problem on its hands this Teacher Appreciation Day. Most of its teachers are fed up — so fed up, in fact, that they're staging a district-wide teacher sickout that's forced 94 of the city's 97 public schools to close on Monday.
The protests come after Detroit Public Schools' emergency manager Steven Rhodes announced in an email to teachers Friday that the city's finances were so bad that it wouldn't be able to make payroll after more than $48 million in state emergency aid runs out on June 30. 
"The $48.7 million in supplemental funding recently passed by the Michigan Legislature will provide enough funding for DPS to pay all employees through the end of the fiscal year, on June 30, 2016," Rhodes wrote in the email to teachers. "However, without the passage of the more comprehensive $715 million education reform package that is now being considered by the Michigan House of Representatives, there will be no funds available to pay any of our employees."
The protests highlight rising tensions between public workers in the city and its Republican-led state government, which workers have argued wields outsized power in the economically distressed city. 
"This is about getting local control back of our schools," Mayowa Reynolds, a dance and performing arts teacher at Detroit's Cass Technical High School, said in a phone interview with Mic. "Legislators don't want to do that and they're using teachers and students as pawns in their political fight."
Privatizing public education. That fight has become increasingly pitched in Detroit, whose schools the state seized control of in 1999. In March 2009, Robert Bobb, the first of five emergency managers — officials who are appointed by governor Rob Snyder without any public input — was appointed to manage the district's finances. (Michigan's emergency manager law was expanded in 2011 and has been widely blamed for Flint's water crisis). Currently, the state's legislature is considering a bill that would create the Detroit Education Commission, made up of three public school and three charter school representatives, to determine which of the district's schools could be closed. The bill would also split the Detroit Public School district in two and introduce controversial A-F grades for schools, moves that many of the school's current teachers see as concessions to charter school operators. 
For teachers like Reynolds, Rhodes' claim that the district is broke also reads as a concession that the state's reliance on emergency managers is a mistake. "The state has been running the schools since 1999, so the debt that's been created has been created under their watch," Reynolds said.
Detroit's K-12 schools have changed drastically in recent years. In the six years between 2009 and 2015, the district's enrollment has fallen 50%, from 95,000 students to 48,900. More than 90 schools have been closed, and there are calls to close 24 others. While public schools have shuttered, charter school enrollment has steadily risen. Between 2010 and 2013, charter schools grew by 42%, with 32 new schools opening. That rapid growth has made Detroit the third-largest market for charter schools in the country, behind New Orleans and Washington, D.C.
"It's just a privatization orgy," Elena Herrada, a current member of the Detroit Board of Education, said in a phone interview about what's led up to Monday's sickout. "It's not complicated, [but] what is complicated is the various things [emergency managers] do to justify [the takeover]." 
Herrada pointed out that Rhodes, who's now the emergency manager overseeing the city's schools, is a retired judge who previously presided over the city's bankruptcy proceedings. "They want to remove any public oversight of the schools, which is me and 10 other school board members."
The fight continues. Monday's sickout is the second such protest waged by Detroit's teachers in 2016. The first happened in January, when 85 closed for the day as teachers took to the streets to protest deplorable conditions of their school buildings. They also tweeted photos of stained ceilings, do-it-yourself paint jobs and disgusting-looking student lunches.
With Friday's news that $48.7 million has come and gone, teachers and students are left wondering: Where did all that money go? The city's remaining 2,600 teachers are now calling for an audit of the school district's finances to find out. 
"Most teachers in Detroit that work here, we teach because we live here, we love here, we're here for the children," Reynolds said. "We can't work for free."