Hillary Clinton to NAACP: I'll Protect Obama's Legacy as First Black President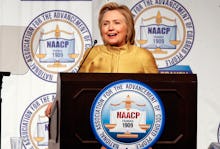 Less than 24 hours after President Barack Obama finished cracking his last jokes for journalists at the annual White House Correspondents' Association dinner, Hillary Clinton spoke to African-American leaders about how she'll protect the legacy of the nation's first black commander-in-chief. Given the tone and terms in which she spoke, it's clear the Democratic presidential frontrunner is as confident as ever about her sense of kinship and support in the black community.
"We've been blessed to have this strong, thoughtful leader sitting in the Oval Office and an exceptional first lady by his side," Clinton told thousands in a largely black audience at the NAACP's First for Freedom Fund Dinner in Detroit on Sunday. "They have made us proud."
Read more: 7 Times Larry Wilmore Made White People Uncomfortable At the WHCD
"They have represented America to the world with style and grace, and it is up to us to make sure that when they leave the White House, the concerns and priorities they've championed, the hopes and dreams that Americans have entrusted to them, don't also leave."
Clinton painted her likely Republican opponent in the general election as the biggest threat to Obama's accomplishments, which include the expansion of health care for low-income Americans, funding for historically black colleges and universities and federal drug sentencing reforms. 
"We cannot let Barack Obama's legacy fall into Donald Trump's hands," Clinton said in her keynote speech at the dinner.
The black community doesn't need to look any further than Trump's record of disrespect toward Obama, Clinton said, reminding the audience that the billionaire real estate mogul "led the insidious birther movement to discredit the president's citizenship." She also mentioned former Ku Klux Klan grand wizard David Duke, as a refresher on Trump's slow disavowal of his and other white supremacists' campaign endorsements.
Sunday's speech was hardly the first time that Clinton has emphasized Obama's race and legacy before largely African-American audiences. Ahead of the presidential primaries in South Carolina and Alabama, where blacks make up a significant bloc of Democratic voters, Clinton met with national civil rights leaders to discuss how she'd protect historic civil rights victories that were won generations ago. She and Democratic opponent Bernie Sanders took meetings with Black Lives Matter activists and made criminal justice and policing reforms central in their pitches to African-Americans.
But Sanders has persistently trailed Clinton among black voters. Clinton's support among blacks remained high in spite of recent criticism that she, as first lady, championed a national policing expansion in the 1990s that led to mass incarceration of black men. During a debate in Brooklyn, New York, Clinton apologized to black voters for the "unintended" consequences of the 1994 crime bill.
But in Sunday evening's dinner, Clinton seemed to pivot to speaking more broadly about black Americans' contributions to the nation. 
"We have to look at our great country," she said. "Look at this amazing gathering. People from every background. Every race. Every religion. Coming together as one people, one nation."
h/t BuzzFeed