Katy Perry Says Freddie Mercury Would Be Her Dream Makeup Collab: "He Didn't Give a F*ck"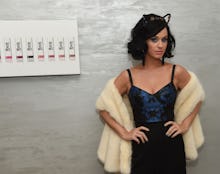 Some celebrities choose to remain tight-lipped about, well, everything. They do things like credit water for their magically clear skin (B.S.) and stick to cheesy, P.R.-approved responses. Katy Perry, on the other hand, is an open book.   
When Mic was offered the opportunity to sit down with the 31-year-old star on Sunday to celebrate the release of her CoverGirl Katy Kat collection, we decided to find out which '80s singer she wishes she could collaborate with on a makeup collection. Her answer may surprise you.
"Freddie Mercury was always my very first inspiration," Perry said. "It's because of the pictures he painted with his lyrics, how he was a bit androgynous and larger than life." 
She said she tries to emulate the late Queen singer in every one of her projects. 
"He seemed like a god of sorts, and had this cocky confidence that was so fun," she said. "He didn't give a fuck, didn't care what people thought. But, it always felt like he was being himself, [even] while playing a little bit of a character." 
Read more: CoverGirl Collaboration With the Ladies of 'Empire' Shows How Diversity Is Done
In addition to Queen classics "We Will Rock You" and "We Are the Champions," Mercury was known for his vibrant suspenders, embellished jackets and revealing bodysuits — something that has continued to inspire celebrities 24 years after his death. 
Just last night, Carrie Underwood paid tribute to the singer with a gold microphone stand at the American Country Countdown Awards (yes, this awards show apparently exists). 
It's no secret that Perry, like Mercury, enjoys experimenting — especially when it comes to her hair and fashion choices. 
Just take a look at some of her more recent looks, like the Bumpit she wore to the 2016 Golden Globes or the pink cowboy boot outfit she rocked to April 2016's Academy of Country Music Awards. 
Even more importantly, Perry has managed to dye her hair nearly every color of the rainbow. 
In true "California Gurls" style, Perry's CoverGirl collection is full of pops of eclectic colors, including an electric blue mascara and purple and black lipsticks. 
"I always try and push the envelope with everything I do, in all my collaborations and everything I create," she said. "[I said to CoverGirl] 'I'd like to push your idea of classic beauty.' I think that classic beauty is really changing because of the internet and places like Tumblr, which is where I get most of my inspiration." 
Other tidbits we learned during our 20-minute sit down with the star include that birth control is one of her skincare secrets and that she would prefer to constantly wear a red lip but she is "trying to make out sometimes" and doesn't want to look like a clown because "red does travel." 
Amen, sister.