These Are the Black Women Who Were Murdered by an LA Serial Killer Called the Grim Sleeper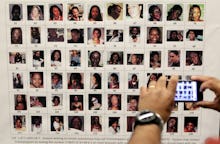 As the Black Lives Matter social justice movement became part of a national conversation around police brutality in communities of color, the champions of another cause sought to call out violence against black women and girls. "Say Her Name," which might ring a bell in the context of Sandra Bland's death in July, is a grassroots campaign that calls special attention to violence inflicted on black women at the hands of police, or violence against them that is ignored by authorities, media outlets and the public.
But activists in Los Angeles have spent nearly a quarter century publicizing names of mostly poor black women allegedly killed by the so-called "Grim Sleeper." Lonnie David Franklin Jr., charged in 2010 by the Los Angeles County district with the murders of nine black women and a 15-year-old girl over the span of 22 years, drew national attention Monday as closing arguments began in two months of testimony, the Associated Press reported.
On May 5, a jury in Los Angeles County, California, found Franklin guilty of murder in each of the 10 deaths. On Aug. 10, a California judge sentenced him to death.
The Black Coalition Fighting Back Serial Murders, a group formed around the Grim Sleeper case, kept Franklin's alleged victims' names alive through persistent media advocacy. A representative for the coalition did not immediately respond to a request for comment on Monday.
Margaret Prescod, a founder of the coalition, told National Public Radio that local authorities never warned women in the community about any serial killer. At one point, as Prescod sought information about the murders, an official responded: 'Why are you concerned about it? He's only killing hookers,'" she said.
Prescod added that there would have been a national uproar and swifter justice if the murders had occurred in a more affluent, whiter part of Los Angeles County. "And we knew it had to do with the race of the victims, and that they were impoverished in a community that not that many people cared about," she said.
As the Los Angeles killing spree seemed to subside, a man named Anthony Sowell was found guilty of raping and killing 11 black women in Cleveland between 2007 and 2009. Late media coverage of Sowell's case and his victims helped to unearth several law enforcement missteps in how the case was handled.
More broadly, activists have also pointed to the violence against women that leaves lasting trauma because of the actions and inaction of law enforcement. In December, an Oklahoma City jury convicted former police Officer Daniel Holtzclaw in a 36-count rape case. He was ultimately found guilty of sexually assaulting eight black women, but the national media were slow to pick up the story of Holtzclaw's sexual assaults that occurred over multiple years.
It's Prescod and others who want the following names of Franklin's Los Angeles victims to be a reminder of the human cost of silence, inaction or indifference among law enforcement and the public
Debra Jackson, 29
Jackson was found dead with three gunshot wounds to the chest, in an alley on Aug. 10, 1985.
Henrietta Wright, 34
Wright was found dead with two gunshot wounds in the chest in an alley on Aug. 12, 1986.
Barbara Ware, 23
Ware was found dead with a single gunshot wound in her chest, in an alley on Jan. 10, 1987.
Bernita Sparks, 26
Sparks was found dead in a trash bin with a single gunshot wound in her chest on April 15, 1987.
Mary Lowe, 26
Lowe was found dead with a gunshot wound to the chest in an alley on Nov. 1, 1987.
Lachrica Jefferson, 22
Jefferson was found dead with two gunshot wounds to the chest in an alley on Jan. 30, 1988.
Alicia Alexander, 18
Alexander was found dead in an alley with a gunshot wound to the chest, on Sept. 11, 1988.
Princess Berthomieux, 15
Berthomieux was found in an alley in Inglewood, California, on March 19, 2002. She was strangled to death.
Valerie McCorvey, 35
McCorvey was found dead at the entrance to an alley on July, 11, 2003. She was strangled to death with a ligature.
Janecia Peters, 25
Peters was found dead inside of a sealed plastic trash bag in a trash bin in an alley on Jan. 1, 2007. She was shot in the back.
h/t Patch
Aug. 10, 2016, 2:55 p.m. EST: This story has been updated.