Here's What Happens to People in America Who Can't Afford Internet Access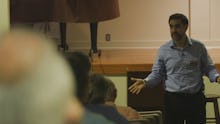 I trekked more than 1,000 miles across Mississippi with Mic's video team to talk to people about the digital divide in the state. 
During the trip, I visited the Stone Elementary School in Wiggins, Mississippi, where Dr. Roberto Gallardo, a grassroots organizer and scholar from Mississippi State University, helped implement a robotics program. Gallardo is working to ensure that the most marginalized communities in the state can access and adopt fixed, high-speed internet. He crisscrosses the state educating elected officials and the broader public about technology with the intent of bridging the digital divide.
I asked 11-year-old Phillip Walker, a participant in the program, to teach me how to code. Like any self-assured 11-year-old born into a world of technological gadgets, he was baffled. 
"How do you not know how to code?" he asked. "How'd you get this job then?
Phillip and I are miles and years apart. So, too, are our digital literacies. I can only imagine how much the gap will expand as time goes on. I am also left to wonder how anyone disconnected from the wave of new technologies can thrive. 
There were a few times when my WiFi service was disconnected at home — or when I refused to pay exuberant amounts to access WiFi service at a hotel — that I realized access to the internet was not just a convenience, but a necessity.
In the digital age, desktop and mobile internet access have become standard for most people, a part of life. But accessing the internet is not an option for some who live in some, mainly rural, parts of the country and those who cannot afford to pay for access. It's more than a matter of convenience — it impacts one's economic wellbeing. 
According to The Clarion-Ledger, only 59% of residents in rural Mississippi have access to the internet, which means close to half do not. Mississippi leads the nation as the state with the lowest rate of households with fixed, high-speed internet. 
Mississippians face a lot of problems. The state has the highest poverty rate in the U.S., according to 2015 data from the Center for American Progress. And while 38% of Mississippi residents are black — the highest percentage in the country — The Root named it one of the worst states for black people to live in. The state has a high rate of black unemployment, among other inequities. It also has the highest rates of infant mortality in the country; black infant mortality rates are particularly high. 
The people most at-risk for being left behind in the digital age are those who already suffer the effects of racism, economic disenfranchisement and lack of access to resources because of where they live. In the case of Mississippi, black and poor people, especially those who live in the rural Mississippi Delta, are most affected.
Watch the latest episode of The Movement here: