Is There Any Truth to This HBCU Vs. PWI Employment Debate?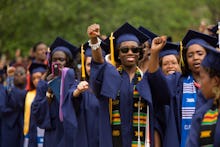 Charity Chambers really stepped in it Monday. With just one post to Twitter, the Texas local TV producer ignited a so-called "HBCU vs. PWI" discussion by suggesting that white employers are turned off by students with degrees from historically black colleges and universities.
(For the uninitiated, PWI is short for "predominantly white institution.")
"Sorry to all of you HBCU goers/grads but just be REALISTIC. What white employer would pick an HBCU grad over PWI grad??... VERYYYYYY few," Chambers tweeted via her handle @CharityCSports. The account had been disabled Monday afternoon after HBCU graduates flooded its mentions over the comment; "HBCU" was also a top 10 trending topic into the afternoon.
It's unclear what prompted the tweet. But it's part of a long-standing debate about the value of degrees from HBCUs for African-American graduates entering the workforce.
There is also no reliable data or academic study to support such a claim. There is far more evidence showing that employers have discriminated against applicants with ethnic-sounding names — it's a form of racial prejudice that has often been cited to explain African Americans' chronically high unemployment rate compared to the rate for whites.
In March, the unemployment rate for blacks was 9 percent. The rate for whites was 4.3 percent, according to the Bureau of Labor Statistics.
Here are a few reactions to Chambers' tweet:
Several Twitter users wondered if the debate was actually started by the announcement that the eldest daughter of Barack and Michelle Obama, Malia, would attend Harvard University after taking a gap year.
Some wondered if Malia should have chosen an HBCU.
Others weighed in expressing disappointment that the discussion was happening at all.