Twitter Goes Ballistic Over Katy Perry's Met Gala Dress. Only Problem: It Was Zoe Saldana.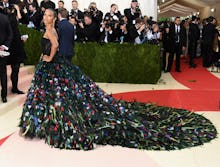 In a sea full of predictable metallic dresses (we're looking at you Taylor Swift) at the 2016 Met Gala Monday evening, Twitter went mad over Katy Perry's peacock train. 
Only problem: That wasn't Katy Perry. It was actually actress Zoe Saldana, who, it need not be noted, looks nothing like Katy Perry.
Many simply believed Perry and Saldana were wearing the same dress. But come on, folks, that wouldn't happen. This is the Met Gala, after all — not the NFL Honors.
This user is still not convinced that this isn't Perry — even with a photo of Saldana kissing her husband, Marco Perego.
Need further proof? Perry has finally arrived wearing what seems to be a Hunger Games inspired frock. Unless she did a speedy wardrobe change, the two are definitely not dressed in the same gown. 
Regardless of who's wearing the dress (it's Saldana), how do peacocks fit into the Manus x Machina: Fashion in An Age of Technology theme? Hard to say, but we love the look regardless.
Plus, she's helping the kids: