Lupita Nyong'o's Nina Simone-Inspired Hair Stole the Show at the 2016 Met Gala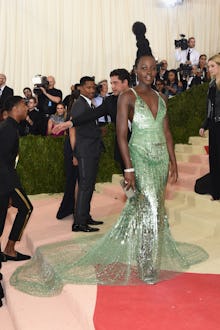 From Rihanna's 2015 Gui Pei yellow gown to Beyonce's 2011 Emilio Pucci ensemble, the Met Gala has proven to be a breeding ground for over-the-top couture looks. 
At this year's event on Monday evening, most stars seemed (unsurprisingly) to be confused with this year's theme, "Manus x Machina: Fashion in an Age of Technology," with attendees like Kim Kardashian, Kylie Jenner and Taylor Swift opting for safe metallic silhouettes. 
Lupita Nyong'o, on the other hand, took a beauty risk. And boy, did it pay off. 
Many claim the Star Wars star had one of the best looks of the night. 
As with any daring look, not everyone was into the sky high 'do. 
Whether you love it or hate it, at least Nyong'o tried to make a bold statement — unlike most of her fellow silver-wearing celebs. 
While you sit and rank all of your fave and least favorite looks from the night, we'll leave you with this: