50 Cent Taunts Airport Worker With Disabilities and Clearly Needs a Mental Health Lesson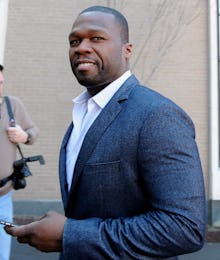 50 Cent must have skipped the day in high school when a teacher covered mental health and stigmas associated with it. The rapper posted a video to his Instagram account in which he ridicules an Cincinnati airport employee who he thought was under the influence of drugs.
"Look at him — what kind of shit do you think he took before he got to work today," the 40-year-old 50 Cent said in the now-viral video, as he pointed a camera at the employee who was visibly disturbed by the encounter. "He high as a motherfucker right here in the airport."
(Editor's note: The following video contains graphic language.)
50 Cent later concluded: "The new generation is fucking crazy!"
Members of the "new generation" quickly blasted the rapper for poor judgment and a lack of humility, after another Instagram user identified the target of Jackson's ridicule as someone who has severe social disabilities. Jackson deleted the Instagram post after a considerable backlash, Fox News Insider reported.
"I went to school with him," an Instagram user named Rusty Stone wrote to Jackson in a separate post. "His name is Andrew Farrell. He has extreme social disabilities just to let you know. He has a hard enough time getting through life without jackasses like you making fun of him. I hope you feel good about yourself. You just lost a huge fan."
An Instagram account reportedly belonging to Farrell received dozens of supportive messages, with many wishing him well.
The timing of Jackson's video is also peculiar. May is national Mental Health Month. For over 65 years, the nonprofit organization Mental Health America has sponsored campaigns to decrease the stigma around mental health and encourage treatment.
The original post from 50 is also cringe-worthy given the documented disparities in access to mental health care and treatment for racial minorities. A history of mistrust and misdiagnosis in the mental health care system has created that disparity, advocates have said.
About 20% of black adults seek mental health care. The rates for Latinos and Asians are even lower — about 10% and about 5%, respectively. Whether people of color's reluctance to seek treatment for mental health illness stems from a lack of awareness or the public stigma associated with getting treatment, 50 Cent's video isn't helping.
The rapper and his representatives had not responded to media requests for comment as of Tuesday morning, 
May 4, 2016, 11 a.m.: 50 Cent has since apologized for the video, telling Page Six the incident was "an unfortunate misunderstanding."
"I am truly sorry for offending the young man," the Queens-born rapper said in a statement to Page Six. "It was certainly not my intent to insult him or the disability community, which is a source of great strength in America. I have apologized personally to him and his family."