We Had an Artist Live Paint All the Best 2016 Met Gala Looks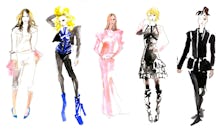 Since its debut in 1948, the Met Gala has been the annual themed event where bold, head-turning fashion statements are made. For this year's event many expected nothing less. 
Although nothing will ever compare to Rihanna's 2016 Guo Pei ensemble, there were a few memorable looks — some good, some bad — at Monday night's "Manus x Machina: Fashion in an Age of Technology" themed event. 
Read more: OK So, What Actually Is the Met Gala?
Mic asked fashion illustrator artist James Skarbek of @Jimmyillustrated to live paint some of our fave celebs as they walked up the red carpet. 
He started with a micron pen to lay a thin-lined foundation for each drawing. Skarbek then used water-soluble brush pens to build subtle tones, before finishing with a mixture of inks and watercolors. 
Take a look at the beautiful results below:
Beyoncé wearing custom Givenchy
Claire Danes in custom Zac Posen
Taylor Swift in custom Louis Vuitton 
Kim Kardashian West and Kanye West wearing custom Balmain
Lady Gaga in Versace
Kendall Jenner in Versace
Sarah Jessica Parker in Monse
Willow Smith wearing Chanel, Jaden Smith in Louis Vuitton
Zoe Saldana in Dolce & Gabbana
The countdown until next year's Super Bowl of fashion starts... now.