Hollywood Is Still Too Cis, White and Male, GLAAD Says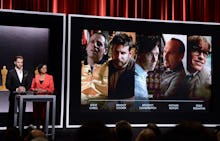 Buzz from the #OscarsSoWhite controversy may have subsided, but LGBT media advocates this week are once again trying to hip the masses to a lack of diversity in Hollywood.
In its fourth annual review of over 125 movies released by the film industry's major studios, media watchdog GLAAD found the number of LGBT-identified characters increased by 68% while number of LGBT characters of color decreased by nearly 7 percentage points in 2015 over the previous year. LGBT characters were overwhelmingly male and cisgender at 75%, according to GLAAD's report, released Monday.
Sarah Kate Ellis, president and CEO of GLAAD, formerly known as the Gay and Lesbian Alliance Against Defamation, said it was troubling that most LGBT-identified characters serve as the butt of a joke or to reinforce stereotypes. Studios continue to see LGBT characters "as the setup of a punch line or ... as an isolated token character who never gets the chance to bloom into a fully formed personality," Ellis said in a statement.
"It is clear that what we once considered 'adequate' from the film industry is no longer adequate at all. The film industry must embrace new stories reflective of the actual world if it wants to remain competitive and relevant."
Here are more details about the findings in GLAAD's report:
Of 126 films produced in 2015 by the seven largest Hollywood studios, only 18% featured an LGBT character.
Of the films containing an LGBT-identified character, 75% contained a gay male character, 23% featured a lesbian character and 9% featured a bisexual character.
Warner Bros's picture Hot Pursuit was the only 2015 film that featured a transgender character.
In 2014, 31% of LGBT film roles were characters of color. In 2015, whites represented 72% of all LGBT roles, while people of color accounted for 26% — a steep decline in the number of LGBT characters of color. 
Despite the lack of racial and ethnic diversity among LGBT characters in movies, studios featured 47 gay, lesbian, bisexual or transgender characters last year. There were just 28 in 2014.
Correction: May 5, 2016