These Fashion Bloggers Are Showing Off Items From the Last Place You'd Expect: Walmart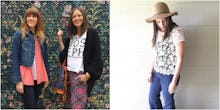 Warning: This article uses "Walmart" and "wardrobe" in the same sentence. 
Walmart is likely not your go-to shopping destination. In fact, it's probably the last place you would expect to find anything that could evoke the words chic or trendy. But, lo and behold, there's actually some good stuff to be found. (Just ask Rihanna.)
Lifestyle bloggers Amanda Jenkins and Bethany Halford launched the blog Whoa, Wait Walmart to showcase the great finds they come across while shopping at the big-box store, so you don't have to sift through what seems to be a never-ending surplus of graphic tees.  
"As a lifelong Walmart shopper, I've always had interactions with people that resulted in them being shocked that something cute I was wearing or had in my home came from Walmart," Halford said in an email. 
From fashion and accessories to beauty and home decor, unexpectedly cool products (like this bag and this headband) can be found by taking a stroll down the aisles of  Walmart. If you're too impatient or lazy to look yourself, the duo provides prices, brands and, when available, a link to the item on Walmart's website.
"Amanda and I feature items that we genuinely love," Halford said. "The items are things that we would (and do!) buy to wear, decorate our homes, or feed our families."
Read more: This YouTuber Recreated Met Gala Gowns Using Trash Bags and Toilet Paper
While there are plenty of awesome (and cheap) goodies to be found at Walmart, the retailer has a problematic history that shouldn't be dismissed. In 2014, Walmart's website featured a "Fat Girl Costumes" Halloween category that was pulled after a social media outcry. The next year, Walmart was in hot water for selling an Israeli Army soldier children's costume.
Nonetheless, credit goes to Jenkins and Halford. Instead of glamorizing $595 Jimmy Choo pumps or $1,000 hoodies, these ladies are showing everyone that designer labels are not necessary to look fab. 
Let's all let out a collective: