Why We Need to Talk About Racism as a Mental-Health Trigger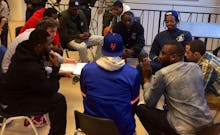 Editor's note: This post contains discussions about suicide, including quotes from a suicide note. 
This time last year, I felt debilitated. 
The news was saturated with the death of yet another black man in police custody. Baltimore City police arrested Freddie Gray on April 12, 2015, and his spine was severed in the back of a police van. He died in the hospital a week later, causing Baltimore to erupt in protest. Citizens were rebelling. 
I had traveled to Baltimore on assignment. But after a year of covering police killings like Gray's, I felt I could not write another story, come up with another hashtag, or offer further public commentary about black people dying at the hands of law enforcement.
There were too many names to remember: Miriam Carey, Eric Garner, Tony Robinson, John Crawford III, Yvette Smith, Walter Scott, Sandra Bland, Tamir Rice, Tanisha Anderson and so many others. 
There were too many last moments, lives cut short by a bullet and caught on dash cam videos.
I lay awake many nights envisioning the faces of black people no longer alive and full of questions about what black people need to do to keep from being killed. There were days when I tried to shed tears that could no longer be shed.
Mentors encouraged me to find a way to calm my rage. They told me to rest. They stressed the need for self care during stressful moments.
Too many bars were populated by some collection of my activist black friends who showed up frustrated after participating in a protest or telling a seemingly well-meaning white colleague that racism doesn't start and stop at the n-word. Like so many other black organizers, artists and cultural workers in the movement, we were broken.
America woke up to a nightmare in August 2014. That was when black activists in Ferguson, Missouri, broke open the national conversation on race and justice after former officer Darren Wilson fatally shot 18-year-old Mike Brown. Veteran and younger activists from St. Louis confronted Ferguson police daily for several months following the murder. Their fiery protests ignited direct action across the nation.
People began calling for an end to police brutality and other forms of state-sanctioned violence. Patrisse Khan-Cullors — one of the creators of #BlackLivesMatter — and I organized a contemporary Freedom Ride to Ferguson with other volunteers across the country. More than 500 black people of various ages showed up to support the Ferguson activists. Many of us haven't stopped organizing and speaking up since.
Some activists have been able to move forward and continue the work because they have access to therapists, healers, spiritual practitioners and networks of friends. 
But some suffered traumas they were unable to overcome. 
23-year-old MarShawn McCarrel, a Columbus-based activist in the movement for black lives, killed himself by firearm on February 8, 2016, in front of the Ohio Statehouse. McCarrel had posted a suicide note on Facebook. "My demons won today. I'm sorry," he wrote, concise and foreboding. The movement had lost one of its own. 
Shortly after McCarrel's death, my colleague Zak Cheney-Rice wrote about a former police officer in Fairborn, Ohio, who reacted to the suicide in a now-deleted Facebook comment. "Love a happy ending," he wrote. His words were destructive, yet illuminating. Even in death, McCarrel was still not free from racism.
A friend in Cleveland spoke about McCarrel's unbending commitment to black liberation. A few of his close friends emailed me about the community activist they had loved and admired.
I empathized with McCarrel. I related to the pressure that comes from fighting a fire that engulfs you as you attempt to put it out. I know psychic breaks are a lot more common than they are exceptional in the lives of black organizers.
Anti-black racism, and other forms of systemic oppression, can break black people — even those of us who are brave enough to push back. Society has cast black men as brutes and black woman as super-humans. But the perception of inordinate and exceptional black strength is not a compliment — it erases our humanity.
According to the U.S. Department of Health and Human Services' Office of Minority Health, black adults are 20% more likely to report serious psychological distress and experience feelings of sadness, hopelessness and worthlessness than white adults. Black teenagers are also more likely to attempt suicide than are white teenagers.
Even the American Psychological Association has acknowledged the impact racial antagonism has on the lives of black people in the U.S. "Although the chronic condition of stress can have negative side effects on all persons, the unique psycho-social and contextual factors, specifically the common and pervasive exposure to racism and discrimination, creates an additional daily stressor for African-Americans," the APA states on its website.
Some black activists cannot handle engaging in movement work while suffering from mental health issues. The constant, everyday encounters with racial antagonism — whether it takes the form of seemingly innocuous micro-aggressions or extreme forms of racial violence — takes a toll.
This movement for black lives is necessary for social transformation, but the work is not glamorous. Some of the change agents behind the movement, like McCarrel, often fight harmful systems while fighting to stay alive.
Editor's note: For information about suicide prevention or to speak with someone confidentially, contact the National Suicide Prevention Lifeline at 1 (800) 273-8255 or the Crisis Text Line at 741-741. Both provide free, anonymous support 24 hours a day, seven days a week.