Watch Ted Cruz Punch — And Then Elbow — His Wife Heidi Cruz in the Face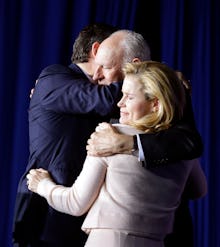 Former Republican presidential candidate Ted Cruz said goodbye with a whisper Tuesday, when his campaign flamed out after a decisive loss in the Indiana GOP primary that night. 
However, Cruz still had one more amusing gaffe for us up his sleeve before leaving the race. 
As the ex-candidate bid farewell to his adoring fans and hugged some on stage, he accidentally punched and elbowed his wife in the face in what proved to be a humble metaphor for the last several months of his campaign against GOP frontrunner Donald Trump. 
Read more: Carly Fiorina Falls Like a Stone at Ted Cruz Rally in Indiana
The moment was a fitting denouement to a whirlwind of missteps that dogged the Cruz campaign in its final hours. 
Just days before the vote, Cruz's vice-presidential pick Carly Fiorina was recorded falling like a stone off a stage shortly after introducing Cruz and his family. Cruz also faced relentless morning show mockery and Indiana hecklers that ultimately culminated in the Texas senator's campaign security escorting a 12-year-old boy out of an event.  
Twitter, too, went wild after elbow-gate, in what could be Cruz's last viral appearance on the site.
Sad.
With Cruz out of the race, Trump remains the last (functional) candidate standing for the GOP nomination. After the results in Indiana were announced, Republican chairman Reince Priebus declared Trump the "presumptive GOP nominee."