Demi Lovato Would Rather Stay at Home and Wear Sweatpants Than Attend Another Met Gala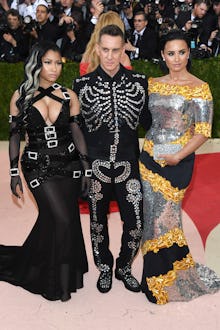 Demi Lovato's first Met Gala will sadly (likely) be her last.
In the below photo from Monday night's star-studded event, the "Confident" singer is seen visibly uncomfortable alongside Moschino creative director Jeremy Scott and his date for the evening, Nicki Minaj.
(Note Minaj's "I can and will cut a bitch" death stare.)
"This picture pretty much summed up my first and probably last Met," Lovato captioned the photo she posted to Instagram with the hashtags "#cool #sofuckingawkward #notforme #sweatpants #forensicfiles #whatsgood."  
Lovato likely posted the photo to point out how uncomfortable seemingly storybook events like these can be in real life. She, like many of us, would prefer to be snuggled up in sweatpants with her pup Batman and boyfriend Wilmer Valderrama watching Forensic Files from the comfort of her couch. 
Read more: We Had an Artist Live Paint All the Best 2016 Met Gala Looks
But more importantly, she also knows good shade when she sees it. Her photo was in response to Minaj's earlier Instagram post of the trio arm in arm (in arm). The issue? Nicki only tagged Scott and Moschino in the caption... and not Lovato. The audacity!
In the age of social media, even the most subtle casting of shade can be quickly misconstrued for bad blood (or not — who knows with Minaj these days).
But because Lovato DGAF, she wasn't going to stay silent about what she thought was a hit at her. She took to Snapchat to clarify the situation, captioning a filtered photo, "When you aren't mentioned in a post but didn't do shit to the person..." 
Lovato's response spurred a Minaj vs. Lovato war in the comments section on her Instagram — one that is still currently taking place. 
"Yessss Demi! I love u for this! Keep it all the way real," one Team Demi fan wrote. "Ugh grow the fuck up Demi," said someone on the other side of the battlefield. "Stop with that entitled shit, you're embarrassing yourself and making yourself look like a GROWN ASS CHILD," said yet another Team Nicki user. 
The comments section flame war caused the 23-year-old to add to the caption, "P.S. Some of y'all need to learn how to take a joke... I'm obviously laughing at the fact that: 1) I look incredibly awkward, and 2) That the shade being thrown in this picture actually gives me life." 
So she basically just clarified what fans were thinking: The shade is very real.