Diaper Rash Cream Is the Latest Acne Treatment, According to This Viral Video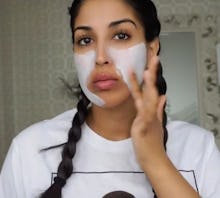 Beauty vlogger Farah Dhukai has posted a skincare hack that'll rid your face of acne with a product found in new moms' bags: diaper-rash cream. 
Wait... diaper cream... on your face? Yep.
Dhukai recommends two different ways to apply it.
Option 1: Rub the cream on your acne spots, let it dry, go to bed and wash it off in the morning. 
Option 2: Apply all over your face, wear overnight and wash it off in the A.M. 
This tip is hardly new. 
A quick Google search brings up an assortment of articles questioning whether the product works, along with a few personal accounts from those who have tried it. 
And it's not the first acne hack. Toothpaste, honey and lemon juice are just some of the products that reportedly help treat breakouts. 
But does it work?
"I use this exact method. It works so well," one user commented on Dhukai's Instagram post. 
While this social media user was quick to confirm the secret magical use of diaper cream, Dr. Joel Schlessinger, a dermatological surgeon and RealSelf contributor, doesn't recommend using this method. 
"While zinc [which is found in diaper cream] has some positive effects on acne, the other ingredients would likely cause congestion of the skin [as] it is clearly not tested for acne when formulated," he said in an email. He also warned that the the product can clog pores, further flaring up acne.  
Plus, do you really want to smell like diaper cream? You be the judge on that one. 
Read more: Is Medical Tape The Solution to Remedying High Heel Pain? Maybe So.
Watch the full video below: