Rumer Willis Claps Back at Photographer Who Photoshopped Her: "It's a Form of Bullying"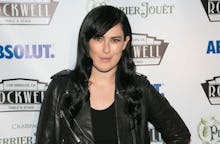 From the Bush twins to Paul McCartney's daughters, some of the biggest celeb siblings in Hollywood are featured in Vanity Fair's May 2016 sisters issue. So it came as no surprise that the publication asked Bruce Willis and Demi Moore's three daughters to participate in the spread. 
While Rumer, Tallulah and Scout are all present in the glam shots, Rumer has taken to Instagram to point out something that is clearly missing: her jawline. 
She starts off the post by asking that fans or friends who have reposted the digitally altered image to remove it from their feeds.
"The photographer Photoshopped my face to make my jaw smaller and I find it really offensive for anyone to try and change the way you look so drastically," she wrote. "I love the way I look and I won't support anyone who would feel a need to change the way I look to make me beautiful. Whether or not they realize it, it is a form of bullying, which I won't stand for." 
Here is a side-by-side for comparison: 
There's been a growing list of celebs calling out publications for unnecessary edits to photos over the past few months. In March 2016, Lena Dunham wrote about Spanish magazine Tentaciones using an altered image of her on its cover. One month later, Kerry Washington said she didn't recognize herself on the cover of Adweek. 
What's different in Rumer's situation is that she is not saying "don't alter photos." Instead, she's pointing out that magazines like VF have created an unrealistic beauty ideal. In her case, it means downsizing her jawline, implying that she needs to alter the way she looks in order to appear presentable.
Read more: Despite "No Photoshop Pledge," Meghan Trainor's 'Seventeen' Cover Has Fans In a Fury
There is no proof that the photo was altered (Mic has reached out to Vanity Fair for comment) but fans have taken to the 27-year-old's post to show support and praise Willis for candidly speaking out. 
"WOW. So noticeable too. I am sorry you have to experience this.... know you are beautiful just the way God intended," one user commented on her Instagram photo. "I would love to see the original, unphotoshopped image. You ARE beautiful, just the way you are," said another. 
The internet to all digitally altered photos right now:
May 5, 2016, 10:00 a.m.: The photographers behind the photoshoot, Mark Williams and Sara Hirakawa, have issued the following statement to the Cut:
The retouching that was done to the photograph was only done to resolve some distortion with using a wide angle lens for a group shot, and not to alter or modify anyone's face. We used a wide angle lens, and it might've made Rumer's chin look smaller from the higher angle that we shot the image.  We did correct for the optics of the lens slightly as people's heads get distorted through the wide angle lens.  We certainly did not intend to change the way she naturally looks. Our intention was to capture the special bond between Rumer and her sisters.