Tamir Rice's Mom Calls Racism a "Disease," Urges Whites to Join Fight for Racial Justice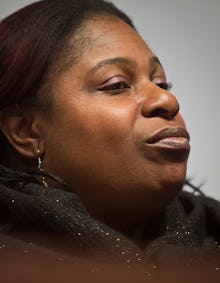 The mother of Tamir Rice made a call on Wednesday for white people to join people of color in leading the fight for racial justice and police accountability. 
"I believe that's the only way change will occur," Samaria Rice said. "All of us standing together and unifying [...] That would set an example for the government to say, "Listen, look, we're not going to take this anymore. You can't just keep killing unarmed Americans."
Rice was the keynote speaker during a commemorative event at Kent State University on the 46th anniversary of a brutal confrontation where Ohio National Guardsmen killed four students who were protesting the Vietnam War.
According to the Associated Press, Rice also referred to racism as a disease that needs a cure.
The event highlighted the Black Lives Matter movement as the latest generation's fight against unjust killings of innocent people.
"What do we have the First Amendment rights for if we can't exercise them, and who is the law enforcement to kind of knock that down, let alone put their hands on you?" Rice said.
In December, a grand jury decided not to indict the officers who fatally shot 12-year-old Tamir within seconds of spotting him playing in a public park with a toy gun.
In November, Rice took her case to the United Nations, where a panel of experts discussed strategies for dismantling structural racism. The panel included Black Lives Matter co-founder Alicia Garza.
h/t Cleveland.com