KFC Has Created Edible Nail Polish, and Yes, It Will Taste Like Fried Chicken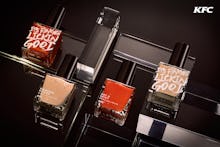 Just when you thought cowboy boot sandals and animal cock socks were the most WTF inventions of 2016 comes KFC's edible nail polishes.  
Nope, KFC is not the acronym that some new beauty company unfortunately chose to use, it is indeed the first foray into beauty by the fast food establishment that sells buckets of fried chicken.
According to Adweek, KFC Hong Kong worked with the food technologists that already provide its herbs and spices to create two flavors based on its Original and Hot & Spicy recipes. 
"It actually tastes like KFC," John Koay, Creative Director Ogilvy & Mather Hong Kong, KFC's parent company, said in an email. "We got McCormicks, the food technologists who guard the secrets of KFC's secret recipe to develop a solution based on natural ingredients to create this edible nail polish that hardens when dry, with a glossy finish."
But how does the tasty polish work? It's simple: You apply and dry it like any 'ole nail polish. KFC then expects you to lick your fingers to get the sweet taste of ... chicken (and not formaldehyde). Yum! 
Twitter perfectly sums everyone's confused (and semi-grossed out) reactions to the release:
Though the flavors are sourced from natural ingredients and contain no artificial preservatives, according to the global chain, one has to wonder if they contain the same nasty ingredients that make up regular polishes. Plus, aren't there germs all over your nails and under your cuticles? Yech. 
Before you attempt to lick off your current manicure in preparation, take pause. The product is only currently available to "media fans and fashion influencers." Whether or not it will be mass produced is dependent on, according to the brand, "overall feedback, FB voting and market demand."