#NativeMomsTaughtMe Is Out to Shatter Stereotypes About Indigenous Women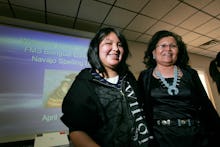 With Mother's Day on the horizon, people tweeted Wednesday night to share their love for Native moms with the hashtag #NativeMomsTaughtMe:
Native women aren't usually included in America's hallmark celebration of mothering, which is what prompted Pernell Thomas, a 30-year-old Navajo man in Albuquerque, New Mexico, to start the #NativeMomsTaughtMe.
"Native moms are the backbone of our community," Thomas said in a phone interview. "Most Native tribes are matriarchal so it's really important to continue those traditions and it's important for us to recognize those traditions."