How to Watch SpaceX's Falcon 9 Launch Attempt Tonight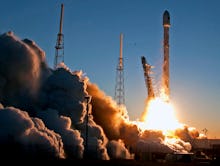 Elon Musk's rocket company SpaceX is going to try for another launch and landing of its Falcon 9 rocket on Friday morning at 1:21 a.m. Eastern.
The rocket will launch from Cape Canaveral, Florida, carrying a Japanese communication satellite called JCSAT-14. Shortly after the launch, SpaceX will try to land the first stage of the rocket on a drone ship called Of Course I Still Love You.
If you want to stay up to watch, SpaceX has a livestream that will start about 30 minutes before the launch:
On April 8, SpaceX successfully landed its first rocket on the ship:
But don't get your hopes up for another spectacular rocket landing tonight. SpaceX doesn't expect the landing to succeed. 
That's because the rocket has to carry this satellite all the way to geostationary transfer orbit which is really high above Earth (the upper bound GTO is around 37,000 kilometers). So the rocket will have to burn lots of fuel and accelerate to a blistering pace to make it all the way up there. That means it'll be coming in hot and fast for the landing, and it won't have much fuel left to maneuver a graceful landing. 
"Given this mission's GTO destination, the first-stage will be subject to extreme velocities and re-entry heating, making a successful landing unlikely," SpaceX said in a statement about Friday's launch.
SpaceX has already nailed land-based landings like the one we saw in December 2015, but touching down on land is only possible for a few types of missions, according to Musk. Drone ship landings are better for missions that require faster speeds and higher altitudes.
SpaceX will have to perfect both land-based landings and drone ship landings to achieve Musk's dream of reusable rockets that will dramatically decrease the cost of launches.