Hey NYPD, Instead of the #RunningManChallenge, Try to Beat Boston Police in These Contests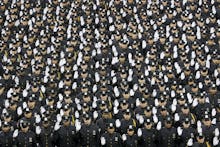 New York City police officers just issued a challenge to their brothers and sisters in Boston — and it's got to be one of the more cringe-worthy things to happen this week. The New York Police Department released a Facebook video Tuesday in which officers challenge the Boston Police Department to the #RunningManChallenge.
This is the latest viral internet dance meme in which people shuffle rhythmically to the Ghost Town DJs' 1996 club hit "My Boo." It definitely ain't your mama's running man either. The meme was started by a couple of University of Maryland basketball players in March and has popped up all over social media.
Here, for your viewing "pleasure," watch the NYPD and students they recruited from a local Brooklyn school get down:
That's a great song — and it's hard to hate on officers using dance-offs as a way to diffuse tension with black and Latino youth. However, the last two years have been particularly tumultuous for the NYPD, with the chokehold death of Eric Garner in Staten Island, New York, and then the grand jury's non-indictment in the case. And the death of Akai Gurley in Brooklyn, whose killer will not face one day of jail time.
Protests and rallies throughout 2015 put a spotlight on years and years of tension between the city's police and the black and brown communities who demanded change. It's safe to say running man clips aren't a suitable stand-in for policing reforms.
If New York and Boston want to keep that competitive spirit going, here are three challenges they should consider after breakin' a sweat:
Diversity on the Force
Police commissioners and police chiefs often complain about how hard it is to retain a force that is as diverse as the population its departments serves. Ideally, a diverse police force can help improve police-community relations, experts have said. 
But the numbers of blacks and Latinos graduating from police academies in recent years have ebbed and flowed too much to see sustained growth. Some law enforcement veterans have said it's because the Black Lives Matter-led protests over police violence have contributed to a drop in the number of people who want to join the force. Potential recruits have been deterred by activists' scrutiny of police conduct.
In New York, a city of 8 million people, whites made up 33% of residents and were 51% of the NYPD in 2014, according to a report by the Associated Press. African-Americans were 23% of New York residents and made up 16% of the city's force. Latinos, who saw the largest increase nationally among officers, made up 28% of city residents and were 26% of the NYPD.
In Boston, which had an estimated population of more than 655,000 residents in 2014, whites made up 54% of residents and were 66% of the Boston Police Department in 2015, according to an official city report. African-Americans were 24% of Boston's residents and made up 23% of Boston's force. Latinos made up 17% of residents and were 9% of the BPD. 
So, for starters, both cities could race to see that whites are not overrepresented on the force.
Reduction in Civilian Complaints
Most police departments have mechanisms through which members of the public can log complaints against officers. In New York, complaints of wrongdoing by NYPD officers that were substantiated by a Civilian Complaint Review Board increased nearly 70% in 2015, the New York Daily News reported. The spike – 315 complaints in 2014 to 531 complaints in 2015 – is higher than any seen in the previous five years.
Complaints against Boston police officers fell in 2014 to 386, compared to 527 complaints in 2013, according to a civilian oversight panel report cited by the Boston Globe. BPD's use-of-force complaints were at a more-than-two-decade low, with most complaints alleging disrespectful treatment.
Looks like Boston would have a head start if reducing civilian complaints against officers were the challenge.
Raise Money for Student Scholarships
For generations, police fraternal organizations have raised money to help the children and other relatives of police officers go to college. One simple way for Boston and New York to compete is to see how much money they can raise in tuition assistance for black and Latino youths who live in the neighborhoods they serve.
The NYPD Detectives' Endowment Association offers scholarships. The Boston Police Patrolmen's Association does as well.
As of Thursday afternoon, it was unclear if Boston police brass had accepted New York's challenge. For the sake of police-community relations, we can only hope that officers are as enthusiastic about protecting and serving as they might be about busting moves.