In One Quote, President Obama Tells You What's Wrong With Mass Incarceration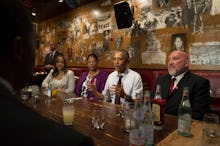 The White House announced Thursday that President Barack Obama has commuted the sentences of 59 nonviolent drug offenders in federal prison, following up on his pledge to make the nation's criminal-justice system more fair and give people a second chance at life.
Here's what the president wrote in an essay posted at Medium:
"Because it just doesn't make sense to require a nonviolent drug offender to serve 20 years, or in some cases, life, in prison. An excessive punishment like that doesn't fit the crime. It's not serving taxpayers, and it's not making us safer."
Obama's continued focus on prison reform addresses the elephant in the room — mass-incarceration policies in the U.S. have made black men six times as likely and Latino men nearly two and a half times as likely to go to jail or prison than white men, according to the Sentencing Project.
In 2015, Obama became the first sitting president to visit a federal prison. The president has called for leaders at the state and local level to make re-entry easier on the formerly incarcerated.
President Obama also said he believes that people should pay for their mistakes — but not at the expense of their families and communities.
"As a country, we have to make sure that those who take responsibility for their mistakes are able to transition back to their communities. It's the right thing to do. It's the smart thing to do. And it's something I will keep working to do as long as I hold this office."