In One Photo, This Model Shuts Down the Thigh Gap Debate Once and For All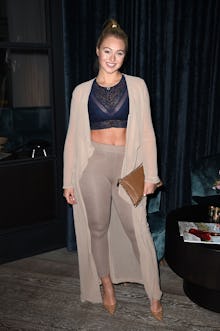 Plus-size model Iskra Lawrence posted an Instagram photo with two different poses to show what it really takes to achieve the coveted thigh gap: good lighting and the right angles.  
In the image on the left, Lawrence is seen standing tall with her thighs pressed together. On the right, she foils the illusion of the gap by leaning forward and standing with her legs slightly apart. 
"No thigh gap or thigh gap who cares," she captioned the photo. "There's no wrong way just be the healthiest & happiest for you..."
I'll be the first one to tell you pics are all about good lightening and angles. Always remember social medias not real life never let anyone else's pics make you feel insecure about yourself. If you don't look like her and she doesn't look like you that's how it's meant to be.
This isn't the first time Lawrence has spoken out. 
From her #AerieReal campaigns to managing the curvy women website Runway Riot, Lawrence is known for issuing body positive messages. Just last month, the British model clapped back at a commenter who called her a fat cow by taking a photo in her bra and panties surrounded by bags of chips.
In 2015, she helped create the National Eating Disorders Association's "NEDA Inspires Seal of Approval" to honor companies that were featuring models sans retouching.  
Read more: This Photo Is a Beautiful "F*ck You" to Anyone Who's Been Called Fat
And she's not the only one doing so. 
In Feb. 2016, Instagram user @plankingforpizza showed a "before and after" photo that was taken in 30 seconds to show how fake transformation photos on the social platform can be. And who can forget Essena O'Neill, the Australian lifestyle blogger who went viral in November 2015 for deleting a large portion of her Instagram photos and re-captioning some to prove that "nothing you see is real." 
Although Instagram is filled with more-than-likely altered bikini selfies, at least there are influencers like Lawrence speaking out about the reality of the perfect snap, reminding us of the importance of loving your body — without or without a thigh gap.