This Powerful Comic Shows the Struggle Curvy Women Go Through Every Day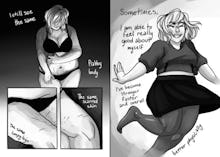 Get the five stories that will challenge you to rethink the world by signing up for MicCheck Daily.
When thinking about women in comic books, these are likely the images that come to mind:
When they're not suited up in skin-tight latex or cleavage-baring outfits, women in comics are often characterized as the damsel in distress or simply the object of the male character's affection. 
Something not often seen in comics? Curvier women. 
One artist is addressing this glaring omission in a new comic, "Is This Healthy," featured on Tumblr. In it, artist angryartist113 depicts the everyday struggles that plus-size women face. 
Like when clothing doesn't come in your size.
Or when compliments always come with a caveat. 
And when working out doesn't seem to be making a difference. 
The comic has received a boatload of praise from fellow Tumblr users, many of whom are praising the artist for creatively showcasing a reality not often observed in a medium such as comic books.
"After struggling so hard for so many years I love seeing other people sharing their similar feelings and in such a great format. Thanks for making it," one user commented. "All I can say is I've never seen the way I feel in words so eloquently put and just 100% accurate to how I feel it hit home," said another. 
Read more: Tess Holliday Sums Up the Issue With Plus-Size Clothing — and How She's Fixing It
Although rare, this isn't the first time that we've seen a curvy woman appear in a comic. In October 2015, Harbinger, a series that has been around since 1992, went viral after announcing a spinoff miniseries featuring a full-figured female protagonist, Faith. 
As Faith's writer Jody Houser told Mic in October, "Faith proves that not only can a woman carry her own superhero comic, she doesn't have to have an idealized body type to do so."
While fashion has slowly begun to embrace plus-size women, the comic book industry has lagged behind. Thankfully, we have talented artists like angryartist113 filling the void. 
See the artist's full comic below: