This Woman's Powerful Body Hair Poem Has Gone Viral For All the Right Reasons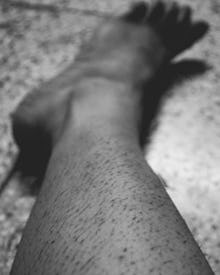 With a poem and a photo of leg hair posted on Facebook that has since been shared more than 8,000 times, one Indian women called out society's unrealistic body hair expectations. 
"When a man tells me I'm beautiful I don't believe him," Naina Kataria started the poem. "Instead, I relive my days in high school/ When no matter how good I was I was always the girl with a mustache ..."
He doesn't know what it's like
The 22-year-old blogger told BuzzFeed that the idea for the post came to her while she went to the movies with a guy and was forced to watch an ad for women's razors. 
In her post, she wanted to point out the commercial's reinforcement of unrealistic beauty standards for women (like being told less hair is beautiful), as well as call out that men don't realize what women go through to look "merely presentable." 
Many have reposted the poem on their own Facebook pages, adding captions such as, "Goodness this gave me infinite goosebumps! She spoke my heart right there," and "An excellent read ... For every woman to feel proud and every man, so that body shaming is completely eradicated." 
Read more: Women Are Talking About Their Pubic Hair -- And That's a Good Thing
As Mic reported last month, body hair has become less of a taboo subject, with more and more women choosing to ditch their razors. One artist in particular, Ashley Armitage, decided to fill her Instagram account with women showing off their body hair to say a big "fuck you" to societal ideas. 
"Right now it seems like there's a group of girls on social media fighting for body hair acceptance, and not just fighting for body hair, but fighting for our right to choose," Armitage said in an email at the time. 
These women aren't just posting photos of their body hair, they are proudly embracing the natural look, which in turn helps normalize the idea that women's bodies don't need tweaking — or in this case, pounds of hot wax.