Amid Navajo Amber Alert Concerns, Data Shows Disproportionate Number of Minority Abductees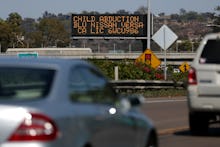 The New Mexico community where a man abducted an 11-year-old Navajo girl earlier on Monday is reeling after learning how long it took for people outside of a tribal community to learn of Ashlynne Mike's kidnapping. Use of the Amber Alert system has often been credited with stopping abductors before they've committed heinous crimes against victims, but it has impacted communities of color differently. 
National data show that children of color are disproportionately the subjects of Amber Alerts, which were created in 1996 to notify regional residents and motorists of reported child abductions. In the 2010 census, 36% of residents in the country were nonwhite, but they account for more than half of Amber Alerts annually over the last several years.
Amid that disparity, Native American reservations appear to be at a disadvantage. The Navajo Nation, the country's largest American Indian reservation, does not have a system to issue its own child abduction alerts, the Associated Press reported. 
A fraction of the 566 federally recognized tribes have the system and, in many cases, they rely on state authorities to work with the National Center for Missing and Exploited Children to issue the alerts.
Despite a 2007 pilot project, spearheaded by the U.S. Department of Justice to expand the Amber Alert system to Indian reservations, the Navajo Nation still didn't have a system in place when Ashlynne and her 9-year-old brother were abducted Monday.
Cell phones outside of the Navajo Nation blared with an Amber Alert at 2:30 a.m. Tuesday, although Ashlynne and her brother had been reported missing late Monday. Tribal officials told the AP that they didn't know anyone had been kidnapped until Ashlynne's brother escaped to a police station in Shiprock, New Mexico. The boy told police that their abductor took his sister into the nearby hills.
Police discovered Ashlynne's body Tuesday morning, hours after the alert and nearly a day after her brother informed police. The timeline had drawn sharp criticism from regional residents over local authorities' use of the Amber Alert system.
Some said they believed more could have been done to find Ashlynne alive, while others believe it would not have made much of a difference. But what's clear is that more resources from outside of the reservation would not have hurt.
Funeral services for Ashlynne were held Friday in Farmington, New Mexico. Her alleged abductor, Tom Begaye Jr., was scheduled to appear in a federal court in Albuquerque. Begaye was charged with kidnapping and murder in the girl's death, the AP reported.