Lauryn Hill Gets "Colored People's Time" All Wrong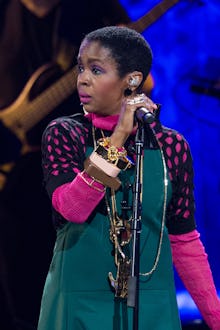 Singer Lauryn Hill just doesn't get it. Being late to social events or getting a late start to an event you're throwing is, in most cases, acceptable among friends and family.
Over the years, Hill has developed a reputation for being hours late to her own concerts, has cancelled shows and has not shown up for rehearsals, often without valid explanations.
It's called "colored people time" in the African-American community. It's a playful wink at the likelihood that the cookout or baby shower may start 30 minutes to an hour later than advertised. It gives you an out — "I'm not late. I'm just on colored people's time." The phrase has also gained traction recently among mainstream figures like Hillary Clinton. 
But the excuse shouldn't apply to professional musicians and touring artists, as Hill discovered Sunday when she tried justifying her habitual tardiness with fans. 
In a message posted to her Facebook fan page, Hill said she doesn't have an "on/off switch" that makes her ready to hit the stage — even at previously scheduled and agreed upon times. "I am at my best when I am open, rested, sensitive and liberated to express myself as truthfully as possible," she wrote.
Hill goes even further to explain that, when she has shown up on time, she's given fans more than their money's worth.
"For every performance that I've arrived to late, there have been countless others where I've performed in excess of two hours, beyond what I am contracted to do, pouring everything out on the stage," the singer wrote in an apparent plea for empathy on Facebook.
Someone on Hill's team should explain it to her this way: She'd be hard pressed to find a job supervisor or corporate executive who excuses habitual lateness from the fans. Those fans showed up on time to earn money so they can buy tickets to her hit-or-miss performances. As of Sunday afternoon, it was clear her team wouldn't have to lift a finger to enlighten Hill because her fans were already weighing in.
Among some supportive messages, the former Fugees member was chastised on Facebook for offering what most agreed is a bad explanation for unprofessional behavior.
The most searing critiques came from Ms. Hill's on-again-off-again collaborator, Amir "Questlove" Thompson of The Roots. In so many words, Thompson called Hill a washed-up performer struggling to accept that touring (and showing up on time) is the only way she'll survive as an artist.