Kesha Has a Powerful Message for Body-Shaming Trolls: "Get Over It"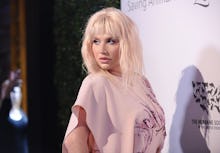 In between hanging out with Zendaya and performing a powerful cover of Lady Gaga's "Til It Happens to You" on Saturday night at the Humane Society of the United States gala, Kesha took to Instagram to bring light to yet another important subject: body shaming. 
"No thigh gap here. Just a shit ton of balls," the 29-year-old captioned an Instagram photo of her wearing a T-shirt without pants. 
She later posted another picture writing, "byeeeeeeee haters and body shamers.???? bye byeeeeeee. ????I'm hot when my ass is big. I'm hot when it small. GET OVER IT."
Although it's not clear what inspired these posts, fans were quick to show Kesha support.
"Why can't I like this more than once. Such a fucking boss," one user wrote. "You're my role model, I think you're beautiful no matter what," said another. 
This isn't the first time that Kesha has talked about body image. Back in March, the singer posted a bikini shot, calling out trolls, saying "Not a slave to perfection right now. Fuck it. Body shamers, please fuck off ain't nobody got time for it." 
Rad more: Kesha's Return to Music With "True Colors" Was Understated, Confident & Beautiful
A year prior, she sat down with Vogue to discuss the criticism she endured from "hackers, bloggers, even a colleague" early in her career. "Slowly but surely my self esteem [started to] deteriorate," which led her to seek treatment in the beginning of 2014. 
Kesha told Vogue she tries to avoid reading internet hate, but as seen with her recent body shamer clap backs, sometimes you got to put up your middle finger and remind everyone, time and time again, that you DGAF.
This Instagram comment sums up our reaction to the posts perfectly: 
"YESSSSS SLAY SLAY SLAY SLAY SLAY SLAY SLAY SLAY."