Rowan Blanchard and Hari Nef Go on Epic Twitter Rant About Why They Hate the Red Carpet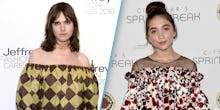 Picture E!'s Fashion Police without host Giuliana Rancic. Easy (even satisfying), right?
Now remove the aspect of the show when fashion is critiqued, and, instead, add a segment where celebrities are able to talk about their disdain for walking red carpets. What's the result? E!'s Fashion Police featuring model Hari Nef and Disney Channel actress (and noted feminist) Rowan Blanchard. 
Read more:  Rowan Blanchard Opens Up About Coming Out as Queer
That's just what happened (sadly, on Twitter and not on television) when the pair went on an epic tweetstorm discussing the not-so-fun realities that come with fame.
It all started when Blanchard posted the below Instagram photo from a red carpet on Saturday, writing, "OK I don't usually post carpet photos bc the carpet is a really uncomfortable, scary place 4 me but here is a photo that I don't look stressed."
Nef, who appeared on the April cover of Interview with Blanchard, then began discussing the topic on Twitter with the 14-year-old. 
Blanchard proceeded to call the photo ops "soul-sucking," while Nef noted all of the outfits she feels comfortable in "look crazy under those awful lights." 
Here's the full back-and-forth:
There you have it. 
As Demi Lovato said after the Met Gala, red carpet events are not as glamorous as they might seem. Sometimes, throwing on a pair of sweatpants is more appealing than standing in front of cameras with paparazzi shouting out your name, and as Blanchard said, "screaming 'Gimme a smile!'"
Plus, with E! constantly switching up Fashion Police's co-hosts, maybe it's time to ditch all of them and start the Hari and Rowan show? Yay or nay?