Calvin Klein Continues Tradition Of Controversial NSFW Ad Campaigns With Latest, "Erotica"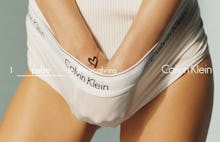 Get the five stories that will challenge you to rethink the world by signing up for MicCheck Daily.
"Calvin Klein's Spring 2016 Global Campaign is Insanely Sexual" and "Calvin Klein's Latest Campaign Might Be Its Most Provocative Yet" are just two of the headlines that emerged on Monday morning to describe the latest ad campaign from the American fashion house.
Yes, the NSFW-ish photos (seen below) are certainly sexually suggestive. There's a collage of cleavage (both breast and butt), Kendall Jenner squeezing a grapefruit, a model sticking her hand in her undies and actress Klara Kristin flashing the camera from an upskirt POV. (We won't attempt to unpack the meaning behind the goat.)
But with nudity being such a large part of social media (both the visualization of it and the discussion around it — see #FreeTheNipple), not to mention the ubiquity of celebrities appearing nude on magazine covers, are these ads really all that controversial?
These images are nothing new. We've seen similar images before in ad campaigns for fast fashion brands like American Apparel and Abercrombie & Fitch all the way up to high-end brands like Tom Ford. And thanks to the internet, ad campaigns now have a shelf live that long exceeds that of a billboard or a print ad in a magazine.
"You're now one click away from every sex act imaginable for free. And so it's just passé at this juncture," Scott Flanders, Playboy's chief executive officer told the New York Times in October 2015 about the magazine's decision to no longer feature women fully nude, further highlighting society's ever-increasing blasé attitude toward exposed genitalia. 
In 2016, it's not out of the ordinary to walk past a newsstand and see someone posing sans clothing on the cover of a magazine. But it's even more likely to come across these covers splayed across headline after headline after headline on the internet.
And let's not forget, this is hardly the first time that Calvin Klein has been called out for its highly suggestive ad campaigns — nor will it likely be the last. 
The brand's first major ad controversy occurred in 1980, with then-unknown 15-year-old Brooke Shields appearing in a now-infamous jean campaign with tagline, "You want to know what comes between me and my Calvins? Nothing." The ad was effectively banned by networks including CBS and led to the Justice Department launching an investigation into the brand's exploitation of young models, according to Ad Age. 
Read more: This Mom Perfectly Recreated Kendall's Calvin Klein Ads With a Body Positive Twist
That was only the beginning. The brand has come under fire multiple other times, once for using a 17-year-old Kate Moss and another time for releasing ads that "looked" like child porn. 
When the brand wasn't being called out for its usage of underage models, it was making headlines by way of insinuated orgys, and, in 2015, was accused of photoshopping Justin Bieber's washboard abs — the nerve.
Insinuating masturbation and writing "I pulse in my #calvins" in the latest campaign is sexual, no doubt, but is it controversy-worthy? Only if sex and butts are still considered taboo or inappropriate subjects in 2016, which, come on people, are you watching Game of Thrones?
The new CK ads are sexy, sure — but nothing will ever get spines tingling quite like Calvin Klein's iconic Mark Mark ads. In a word: Effortless.