Online Retailer Claims to Be Selling Puppies as Fashion Accessories; Internet Goes in Hard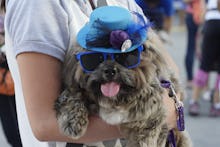 Lyst, an online market that sells designer clothing and accessories, added a new product category Monday evening. Instead of opting to include a beauty or lifestyle section, the U.K.-based retailer chose the next logical option: dogs. 
No, not adorable hoodies with text reading "I'm a Sexy Bitch" over the image of a bull terrier or accessories for your dog. They are selling actual canines. 
When you go to purchase an Alice + Olivia maxi dress, you can also preorder a small Corgi.
Not in the market for a Corgi? You monster! No worries! There are 32 other dog breeds to choose from in sizes small to extra large. Yes, like a T-shirt. 
"Find the right dog to match your wardrobe from our curated selection of breeds that are as stylish as they are loveble," the website reads.
Folks flooded Twitter to express a mix of confusion and outrage.
You're probably thinking "this has to be a joke." So, is it? The answer is not entirely clear — even after speaking directly with the company.
The brand has been answering questions on Twitter, claiming "the dogs are well looked after and kept in line with strict animal welfare guidelines," and "we're just delivering to the U.K. at the moment, keep an eye out for overseas plans very soon!"
Read more: Aerie's Male Body Positive Campaign Was Cruel April Fools' "Parody"
"We were surprised to see the negative reactions on social media — the very space where dogs are paraded as accessories the most," a Lyst spokesperson said in a statement via email. "Who doesn't love a cute puppy in a handbag? We're just helping you buy both pieces of the Instagram shot at once."
The company has also been retweeting people who say they've purchased dogs from its website, furthering hinting at the fact that this is, in fact, an actual offering.
Regardless of whether or not this is just another terribly thought-out satirical campaign (is Lyst taking notes from Aerie?), Twitter users — and animal cruelty organizations — are not laughing. 
Dogs Trust, a welfare charity in the U.K., released the following statement: 
Whilst Dogs Trust was not involved in Lyst's PR puppy stunt, the interest in this campaign draws attention to the concerning trend for impulse puppy purchases, which sadly Dogs Trust sees on a regular basis.
Hopefully, the company will announce that this is all a joke because puppies shouldn't be paraded around as just another accessory to pair with an outfit. You want a puppy? Adopt one.
Also, someone get Lyst a calendar because April Fool's Day was last month. 
May 10, 2016, 1:45 p.m.: Lyst has released the following statement clarifying that this was a hoax "aimed at sparking debate around the worrying trend for 'handbag' dogs." 
"A dog is for life, not just for Instagram," Christian Woofenden, Lyst's chief marketing officer said. "We're positively overwhelmed by the number of people talking about this important issue, and hope that it goes some way towards helping Blue Cross with their vital work in this space."