Khloé Kardashian Gets Real About the Unexpected Reason She Photoshops Her Gym Selfies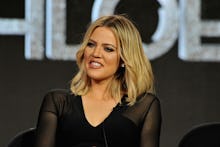 Some celebs, like Kerry Washington and Rumer Willis, have publicly addressed their disdain for Photoshop. Khloé Kardashian, on the other hand, has embraced photo editing technology and wants to point out that it has more than just slimming capabilities. 
Back in February, the internet was quick to call out the 31-year-old for altering one of her gym selfies. (Notice the curve in the doorframe.)
Kardashian then removed the edited photo and posted the original shot, writing "If only hatin burned calories how dope y'all would be. Too bad it doesn't. Here's the OG shot." 
But, as seen in the above photos, not much seems to be changed besides her right leg. So why the tiny tweak? Kardashian took to her website on Monday — three months after the incident — to explain the unexpected reason.
Turns out, the reality star was in a car accident when she was 16 year old that resulted in her undergoing reconstructive knee surgeries after her legs were stuck under the steering wheel.
As a result: "My right leg is an inch and a half thinner than my left because my muscles deteriorated and never recovered," she explained. "[It's] the reason I've had so many of these surgeries – and always wear a knee brace for my workouts." 
Kardashian first let fans know about the car accident in July 2015 on Twitter, after some trolls were critiquing her knees (yes, knees) on the cover of Complex. 
She also posted an unedited version of a pic from the Complex photoshoot next to the Photoshopped version to clap back at haters who didn't seem to believe that her body looked the way it did in the magazine. 
"This one is for all the troll haters out there that cannot seem to give me an ounce of credit for my daily workouts," she wrote. 
So, yes, Kardashian is a Photoshop user — but it's not as if she's lying about it. Keeping it 100, she added: "All I want are big, thick thighs and I hate how skinny my legs are."
With a myriad of photo editing apps, it's easier than ever to digitally alter pictures. Kardashian, like anyone else, is allowed to feel insecure about her body parts. If this means editing something to feel better about herself, she should be able to do so without backlash.
Read more: What Our Responses to Photoshopped Images Really Say About Us
However, Photoshopping in a broader sense continues to be a problematic point of discussion. In her recent post, Kardashian is suggesting to her 48 million followers that if there is something they don't like about their bodies, they should filter it out rather than embrace what makes them unique. Like Mic reported in Aug. 2015, we're now quick to shrug off airbrushing, because everyone knows it is happening.
Kardashian, or anyone for that matter, have the right to erase their flaws if it increases their self esteem (and they need not defend doing so), but we shouldn't have to believe that we must look a certain way in order to maintain unrealistic beauty standards that society has created. Thick legs, skinny legs, bodies are perfect the way they are.