West Point Decides It's Not Punishing Female Cadets for Raised-Fist Salute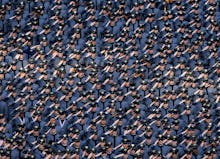 The unbought and unbossed women of West Point, whose raised-fist photo struck fear in hearts of several white critics, learned Tuesday night that they would not face an official reprimand for being openly proud of their blackness. The U.S. Military Academy announced that the 16 African-American female cadets, seen in a now-viral graduation photo taken in the "Old Corps" style, had not violated its policy against political expression.
The predominantly white institution's thorough investigation concluded that the women simply intended to show "unity and pride." Critics, however, had accused the women of using the symbol of African-American political activism to associate themselves with the — gasp! — Black Lives Matter movement.
Here is West Point's statement on the controversy:
The U.S. Military Academy announced today that no punitive action will be taken after an inquiry concluded that 16 cadets who appeared in a photograph with raised fists did not violate Department of Defense or Army regulations.The inquiry concluded that the photo was among several taken in the spur-of-the-moment. It was intended to demonstrate "unity" and "pride," according to the findings of the inquiry.In addition to concluding there was no violation of DOD Directive 1344.10, the findings state, "that based upon available evidence none of the participants, through their actions, intended to show support for a political movement." 
The letter sent to all West Point cadets by the academy's superintendent Lt. Gen. Robert Caslen Jr. seems to raise questions about whether he and other officials actually understand the difference between being black and proud and showing allegiances to a clearly defined political movement. Caslen said students should understand that empowerment gestures, like the raised fist, "that one group of people may find harmless may offend others."
"As members of the Profession of Arms, we are held to a high standard, where our actions are constantly observed and scrutinized in the public domain," Caslen said in the letter. "As Army officers, we are not afforded the luxury of a lack of awareness of how we are perceived."
Funnily enough, African-Americans generally aren't afforded that luxury. In a few instances, people who wished to express solidarity with the national Black Lives Matter movement faced backlash from others.
A teen in Texas was sent home in September for wearing a shirt that paid tribute to Eric Garner and Michael Brown, two men killed by police whose cases galvanized the Black Lives Matter movement. It probably didn't help that the student wore the shirt on the same day that the school was honoring a local sheriff's deputy who had been killed by a black assailant amid increased racial tensions between police and residents. Parents in Monroeville, Pennsylvania, called for the dismissal of a superintendent after a Diversity Day message encouraged students to wear their Black Lives Matter t-shirts.
Caslen probably doesn't mean to trivialize the identities and experiences of black students at a majority-white institution. But the message is clear: You can be proud of your blackness, as long as you keep it to yourself.